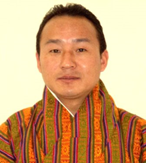 Mr. Tshering Tenzin, Deputy Chief Auditor, working in SAI Bhutan for almost decade. He has Bachelor Degree in Commerce (B.Com) Honors from Delhi University, Post Graduate Diploma in Financial Management (PGDFM), from Royal Institute of Management, Master of Business Administration (MBA), from University of Canberra, Australia. And also a 2011 batch Indian Audit & Accounts Services (IA&AS), reputed and regarded gazette officer, graduated from Shimla, India. Prior to joining in Head quarter, he was based in eastern and central Regional Audit Offices, which made him a versed in field and rich cross-cultural auditor in SAI Bhutan.
When the coronavirus pandemic took the world by the shocking storm, Bhutan took swift and decisive measures and managed to keep the virus at bay with the blessings of the Triple Gem and farsighted Leadership & visionary king and Government. The people of Bhutan is fortunate to have His Majesty the King personally leading our response to Covid-19. The government, under His Majesty's guidance, has put in place a package of measures to support the economy. The economic stimulus plan of Nu 30bn, equivalent to 20% of 2018 GDP, is comparable to that of any developed country and more substantial than those of many countries in our development cohort. In addition, loan repayment deferrals and interest waiver for till end of pandemic, individuals and families have access to the King's Relief Funds while businesses can avail more affordable working capital. During dreadful pandemic, the people of Bhutan was so far safer heaven to live in happily and peacefully.
The way of life and doing has changed dramatically after arrival of CoVid-19 in this world. The right technology and tools, working remote is possible and practical. Companies and indeed the civil service reconsider and accept the ways & style of working and working from home and flexible working was more acceptable and common norms in times to come.
Covid-19 had also accelerated the adoption of digital solutions with value of digital solutions across multiple areas such as remote working and online education and increasingly using their mobile banking apps for money transfer and other day to day transactions. There are reports that more Bhutanese in urban areas have signed for online services with increased investments into digital across different sectors which had become common platform of younger generations to come.
Digital Disruption and Innovation for Speed and Scale
The Government had provided ICT equipment to support Ministry of Health (MoH) in the roll out of COVID-19 emergency IT solutions enabling real-time data collection to effectively monitor and respond to the coronavirus pandemic,
Partnering with the Judiciary of Bhutan to initiate e-litigation to ensure access to justice and uninterrupted essential social service during the pandemic,
Working with the Parliament of Bhutan in developing a Comprehensive Plan on Parliament Functionality during emergencies and
Supporting the establishment of Bhutan Innovation Hub and in identifying a strategic direction for the country's innovation eco-system and contribute towards building a future-ready Bhutan.
Governance – Strengthening health systems including through digital transformation
Introducing mobile cardiotocography to accelerate the health outcomes of all mothers and children, in partnership with Ministry of Health (MoH). Initiative was to provide remote services to pregnant women and minimize exposure to infections including COVID-19.
Supplementing MoH's efforts to equip frontline health workers and waste handlers providing collection services from quarantine facilities with essential safety gears.
Supporting procurement and establishment of incinerators to manage hazardous waste, capacity building of medical waste handlers and exploring partnerships with the private sector to ensure safer and more efficient medical waste management.
Besides, Government had initiated many innovations after lesson learnt from COVID-19 pandemic, and notable initiatives taken up are;
Health
Closely follow up and ensure COVID-19 vaccine,
Implement Accelerated Mother and Child Health Outcome Policy (the breastfeeding allowance)
Start MBBS in Bhutan,
Professional development for nurses through Diploma, Bachelors and Master's program,
Nursing and allied health division under the Ministry of health Education,
Professionalize ECCD,
Have trained facilitators with competency in child psychology, teaching and nutrition
Reform curriculum
ICT as third language, mandatory subject for Classes PP to XII,
All schools will be equipped with at least one computer-lab each by March 2021.
Develop teacher competency,
Promote the two teacher training colleges into Centers of excellence
Formalizing TVET education,
Diploma, Bachelors and Masters for TVET,
20 percent scholarships to TVET,
Institute selection criteria to encourage top performers for teaching Economy,
Identify new areas of investment to generate at least Nu 15 billion annually to offset loss of tourism revenue.
Explore investors in green energy and technology
Launch 21st Century Economic Roadmap
Seal leakages by way of enhancing import substitution
Formation of time bound Asset reconstruction company (ARC) to manage and realize the non-performing assets or bad assets from financial institutions.
To make our financial sector more resilient to crisis,
Free up liquidity to finance economically productive activities.
To restructure most affected businesses.
To safeguard the interest of owners of the assets.
To act as a central agency to deal with NPA. (Model for asset securitization is already developed).
Public Service Delivery
One-stop-shop for critical services in all districts,
Strengthen and professionalism 1010,
Operationalize Youth Facilitation Station in the four regions.
Waste management
Complete construction of 9 drop-off centers in Thimphu Thromde and 19 similar centers for Thimphu Dzongkhag
Install three incinerators at Gelephu, Phuentsholing and Mongar to manage waste from COVID-19 centers
Procure 9 electric waste collection vehicles mainly for biomedical waste, wet waste and hazardous waste Digital way
Piloting to Collect Citizen Biometric Data by January, 2021
Fiber connection for 1000 Agencies/ Offices by June, 2021,
Environment
Develop a clear way forward to transform the transport sector by replacing fossil fuel based transport systems to electric cars, buses and trains- In line with our national objective of remaining carbon neutral, greening the transport sector shall be a priority going forward,
Establishment of Bhutan Climate Fund Legislation and policies
Revise and approve Sustainable Hydropower Development Policy
Introduce Health Bill in Parliament System reform Strengthen government performance management system
To ensure highest accountability on public agencies to deliver their mandates efficiently and effectively. Initiate BSR rate revision to reflect the market reality, and
To study and revise the schedule rates of materials and services used in the construction sector.
These were additional initiatives and innovation initiated rigorously by the Government for the country and its subjects in addition to the annual plan and activities.