Editorial
From the desk of the Editor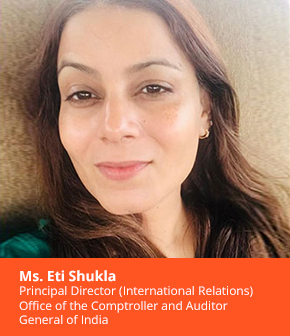 Gender equality is a fundamental right, a moral need and an issue of justice. It is also economically crucial as the potential of the fifty percent population of the world remains partially or fully untapped. Echoing the central promise of the 2030 Agenda for Sustainable Development and its Sustainable Development Goals (SDGs)- 'Leave no one behind', the United Nations, has included SDG 5 which aims to grant women and girls equal rights, opportunities to live freely without discrimination including workplace discrimination or any violence. In pursuance of SDG 5, the nations world over have committed to fast-track progress to achieve gender equality.
However, the Global Gender Report published by the World Economic Forum in 2023 indicates that it will take more than a century to close the global gender gap. While gaps in educational attainment and health and survival are gradually closing worldwide, gross inequality in economic participation, opportunity and political empowerment continues to exist. This inequality can be attributed to the deeply ingrained patriarchal attitudes and the regressive social and cultural practices which continue to exist globally. In many parts of the world it manifests in gruesome practices like femicide, child marriage, trafficking etc. while in other parts it takes the form of gender wage gap, inequality in ownership and freedom of expression and institutional barriers.
The need of the hour is to vociferously oppose all forms of gender discrimination and take bold action by promoting gender sensitive laws, policies and institutions that press forward gender equality. The governments all across the globe need to make significant budgetary allocations in the fields of education, health and creation of job opportunities for women, so as to enable them to become part of various policy making platforms. On a cultural level, we need to raise awareness and sensitize people on this burning issue, by including it in school curriculum, conducting workshops and disseminating information through digital, visual and print medium. On a personal level, seemingly small actions like sharing household chores and gender neutral parenting can make a drastic impact in advancing gender equality.
MEMBER information
Email / Webpage addresses of members SAIs