The National Audit Office of the Kingdom of Bahrain:
1. Financial Audit training for Bahrain General Sports Authority
The National Audit Office (NAO) held a webinar on Financial Audit for employees of the Bahrain General Sports Authority, which was presented by Abrar Alsaegh, Audit Supervisor at the Regulatory Audit Directorate.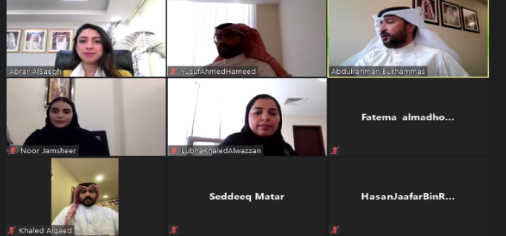 The participants of the two-day training course were financial auditors and management analysts who learnt more about financial audit procedures related to planning, implementation, and reporting. In addition, participants were introduced to risk assessment, financial analyses, detailed tests, selection of audit samples, implementation of control procedures, stating audit observations and following-up on audit findings.
2. Launch of Customs Revenue Audit Training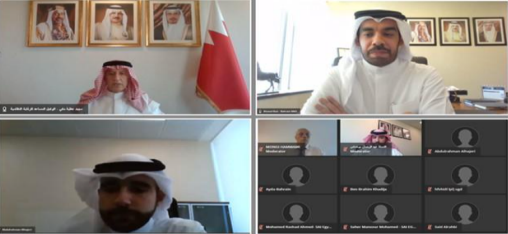 In June, the National Audit Office (NAO) of the Kingdom of Bahrain in cooperation with the Arab Organization of Supreme Audit Institutions (ARABOSAI) organized training on Auditing Customs Revenues which was attended by 30 trainees from 14 Arab countries.
The three-day webinar was delivered by Ahmed Buti, Audit Manager, and Abdul Rahman Alhajeri, Senior Auditor, from the Regulatory Audit Directorate at the NAO in the Kingdom of Bahrain and focussed on two main areas: customs revenue in view of international customs agreements and customs revenue audit procedures.
Participants learned about the origin of customs tax (tariff) and the most important international trade agreements that include clauses related to this tax, such as the United States-Mexico-Canada Agreement (the new NAFTA Agreement), the Agreement on the Customs Union of the European Union (EUCU), and the Agreement on Facilitating and Developing Trade Exchange between Arab Countries, The Common Customs System for the Cooperation Council for the Arab States of the Gulf.
Furthermore, procedures were discussed for financial, performance and compliance audit for customs revenues, reasons for imposing customs tax with an overview of the World Customs Organization (WCO) and the Harmonized Systems Agreement that aims to facilitate trade and exchange of information by coordinating the classification of goods in international trade.
Majeed Ateyya, Assistant Undersecretary - Regularity Audit at the NAO stressed that the NAO believed in the importance of training to enhance the development of audit work and audit procedures in order to contribute to the common goal of Supreme Audit Institutions (SAIs) to preserve public money and ensure its proper use.
3. The National Audit Office of the Kingdom of Bahrain Supports Professional Qualifications
The National Audit Office (NAO) of the Kingdom of Bahrain believes in the importance of supporting its employees to acquire specialized knowledge and skills in the field of accounting and auditing according to best practices.
It is in this spirit that it runs a development (scholarship) programme for its staff to obtain one of the internationally accredited professional qualifications in auditing and accounting. As part of the programme the NAO undertakes the following:
guides employees to choose an appropriate professional qualification,
develops a plan for relevant professional qualification exams,
bears the costs for the employee to obtain the professional qualification according to the approved procedures for each professional qualification.
grants study leave according to approved procedures for each professional qualification.
Currently, 46% of the NAO's technical staff have professional qualifications, and 14 employees have signed the scholarship agreement to obtain professional qualifications during the professional year 2021/2022.102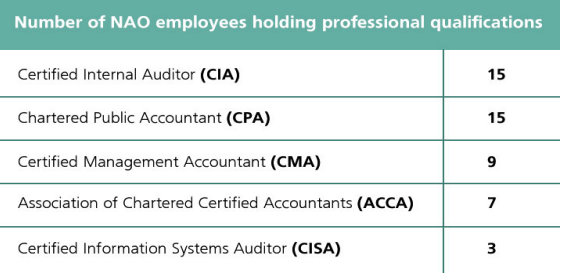 4. Employees receiving professional qualifications
As a result of its efforts to provide ongoing training and professional qualification courses for its employees through projects and programmes that comply with the international audit standards issued by the International Organization for Supreme Audit Institutions (INTOSAI), the National Audit Office could congratulate several employees on receiving professional qualifications: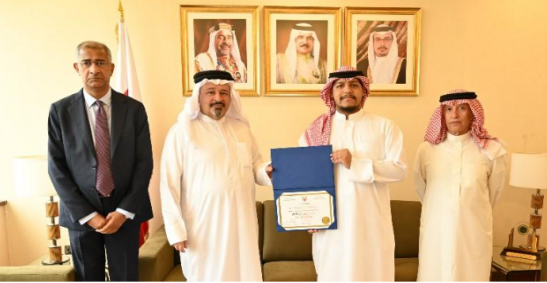 Othman Farhan, senior auditor at the Regularity Audit Directorate qualified as a Certified Internal Auditor (CIA) from the Institute of Internal Auditors (IIA) in the United States of America.
Hasan Saleh Shehab, auditor at the Regularity Audit Directorate obtained his Certified Management Accountant (CMA) certification from the Institute of Management Accountants (IMA) in the United States of America.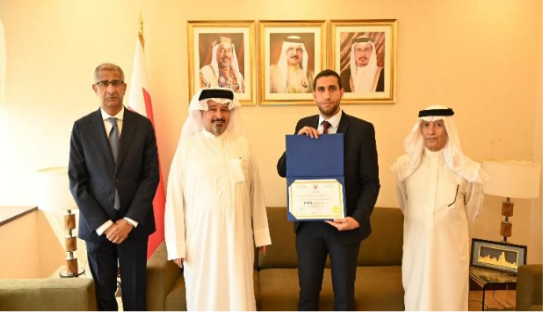 Dr. Isa Alnoaimi, Assistant Auditor General, Administrative Audit, received the Anti Bribery and Corruption Certificate from the Association of Certified Specialists in Combating Money Laundering in the United States of America (ACAMS).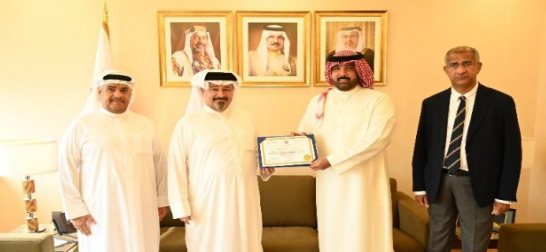 His Excellency Sheikh Ahmed bin Mohammed Al Khalifa, Auditor General of the NAO, congratulated all employees on their newly achieved qualifications and wished them further success in their career.
He stressed that there is a constant need for the development, modernization and introduction of new training programmes to keep pace with the latest global advancements in the field of auditing and to provide employees with the required skills. He emphasized that investing in the development of human cadres was vital for institutions to be successful and encouraged all employees to make use of the support and opportunities offered by the NAO to obtain professional qualifications from internationally accredited institutes.
5. Winners of Gulf Research Competition
Somaia Saleh Almeer and Maryam Ebrahim Taleb from the National Audit Office (NAO) of the Kingdom of Bahrain won the fifth competition of the Gulf Cooperation Council (GCC) for Research and Studies in the field of auditing and accounting, for their joint research on "Automation of the audit work and its role in developing performance.
The Training and Development Committee of the GCC's Supreme Audit Institutions (SAIs) announced the names of the competition winners on the sidelines of its 31st meeting, which was held via video conference on the 24th of this month.
14 papers from SAIs of the GCC countries had been entered into the competition which included 3 topics: "Automation of audit work and its role in developing performance", which was won by Somaia Almeer and Maryam Taleb, "The role of audit institutions in auditing in light of emergency crises", won by Ali Muhammad Al-Namah from the State Audit Bureau of Qatar, and "Performance Audit of Sustainable Development Goals", where the first place went to Salwa Hamed Al-Mulla from the State Audit Bureau of Qatar, and the second place to Abrar Abdel Wahab bin Sabt from the State Audit Bureau of Kuwait.
6. Forensic Audit
The National Audit Office (NAO) continues to carry out and expand its forensic audit work as part of its audit mandate. According to the latest statistics, the NAO has so far completed 11 forensic reports, most of them for entities covered by its audit mandate.
His Excellency Sheikh Ahmed bin Mohammed Al Khalifa, Auditor General of the NAO, confirmed that the NAO would continue to expand its forensic audit tasks and build further capacity in this field by keeping up to date with forensic audit policies, developing technical tools and providing employees with additional training.
He stated that the NAO aimed to provide recommendations to the entities subject to its audit to address weaknesses and strengthen regulations to avoid future violations and abuses. He explained that Forensic Auditing had proven its usefulness in practice as an effective audit tool: it helped develop more specialized and technical auditing methods and acted as a "pre-warning" before violations could occur thus proving to be a very useful tool for the protection of public funds and the verification of their proper management.
"The forensic audit reports that we have completed during the past two years have been well and positively received by those concerned at the highest levels," he said.
The Auditor General added that the NAO's Forensic Auditing work aimed to detect cases of corruption and financial and administrative fraud and included submitting reports to the judicial authorities, state agencies and competent authorities with recommendations on how to avoid violations.
He stated that, to enable the NAO to perform that type of audit, the NAO had developed plans and programmes for the past two years which consisted primarily in training its employees in cooperation with one of the world's leading institutions in Forensic Auditing and encouraging them to obtain relevant professional qualifications. He added that in early 2021 an internal team was formed to carry out forensic auditing which also formed the focus of the NAO's new strategic plan (July 2021 - June 2025).
The head of the NAO's forensic audit team, Dr. Isa Alnoaimi, Assistant Auditor General - Administrative Audit, said that a training programme consisting of a series of expert forensic audit courses had been launched under the title "Capacity Building and Enhancing Skills and Expertise in the Field of Forensic Auditing" in cooperation with an expert company.
He stressed that so far 25 employees from the NAO and other relevant authorities had benefited from the program's first phase which provided training in preparing professional forensic audit reports. He added that, according to the training program, the forensic audit team would receive further specialized training on an annual basis.
Dr. Alnoaimi explained that the program aimed to provide employees with the skills to prepare specialized reports, strengthen cooperation and partnership with the entities subject to the NAO's audit, provide added value to stakeholders, and achieve the NAO's strategic objectives leading to improved services for Bahrain's citizens.
According to last year's plan, the NAO approved 6 Forensic Auditing training courses held over a period of 5 months covering the following topics: Overview of Forensic Auditing procedures, Forensic Auditing and Financial Crimes, Advanced Analysis of Big Data, Electronic Discovery Techniques (E- Discovery), Investigative Interview Techniques, Documenting Worksheets, Forensic Reporting and Evidencing.
Dr. Alnoaimi stressed that the NAO advised and encouraged its technical staff to obtain forensic audit qualifications from recognized international institutes.
E-Course on Auditing Waste Management is open for registration National Audit Office of Estonia
The Massive Open Online Course (MOOC) on Auditing Waste Management was developed and launched under the auspices of INTOSAI WGEA in 2019. It is a freely accessible e-course, fully online and self-paced. While the materials of the course are accessible all the time, the project lead, National Audit Office of Estonia, officially runs the course once a year in cooperation with University of Tartu. Facilitators then also provide support in course discussion forums and aim at encouraging group-learning. Participants successfully completing all tasks will receive a certificate from the University of Tartu. The next course will run from 23 January to 19 February 2023, registration is already open here.
Recently the INTOSAI WGEA Massive Open Online Course (MOOC) on Auditing Waste Management earned an honourable recognition by receiving an e-course quality label from the Estonian Quality Agency for Higher and Vocational Education. The quality label is an acknowledgement of excellent results in the application of digital technology in the learning process.
The aim of this course is to introduce the concept of waste and main waste related topics: from the categories of waste and waste-related problems to the principles, policies and tools used in waste management, as well as the possibilities for auditing waste issues using performance audit methods.
The course consists of reading material, video lectures, exercises, tests, and audit cases based on the practice of several Supreme Audit Institutions from the International Organisation of Supreme Audit Institutions (INTOSAI).
Register for the course here!
The Comptroller and Auditor General of India
1. SAI India presented a proposal on establishing a new working group on Information Technology Audit and Data Analytics during the 58th Governing Board Meeting of ASOSAI that was held virtually on 31st May, 2022.
The purpose of the Working Group is to provide support to member SAIs in developing their knowledge and skills in the use and audit of Information Technology as the SAIs need to keep pace with such developments and embrace the evolving opportunities in IT and data analytics.
The Special Committee has been formed to study the feasibility of creation of the ASOSAI Working Group on IT Audit and Data Analytics and consist of 15 member SAIs (SAIs of China, India(Chair) Indonesia, Japan, Jordan, Oman, Malaysia, Mauritius, Maldives, Korea, Palestine, Philippines, Russia, Thailand, Turkey) of ASOSAI who have expressed their interest in joining the Special Committee.
The report of the Special Committee will be presented at the 59th Governing Board Meeting of ASOSAI to be hosted by BAI Korea.
2. The International Centre for Information Systems and Audit (iCISA), Noida was set up for Information Systems and Information Technology Audit in March 2002 to conduct high quality, skill-developing training programmes for national and International participants, using the latest pedagogy and training tools. iCISA is an ISO 9001:2008 (QMS) and ISO 27001 (ISMS) certified institution which strives for ensuring quality systems in training and alignment of IT audit with global best practices.
iCISA has been conducting national and International training programmes, since inception. iCISA has been conducting International training programme (ITP), under the Indian Technical and Economic Co-operation (ITEC), a flagship capacity building programme of Ministry of External Affairs, Government of India. The training programmes cut across practically all audit domains, riding on the back of a rich heritage of knowledge and skills. Careful and creative content design and a wide and diverse pool of world class faculty from all spectrums of economy have ensured that training programmes are thought-provoking, informative, engaging and aspirational.
Every year iCISA conducts five residential International Training Programmes under Indian Technical & Economic Cooperation (ITEC) programme of Ministry of External Affairs, which are attended by around 40 participants from 30-35 countries. Apart from this, iCISA also conducts customized Bilateral Training Programmes for various Supreme Audit Institutions. During pandemic, iCISA switched to conducting online Training Programmes (Multilateral and Bilateral).
During the period from 01st May to 31st October, 2022, iCISA conducted following ITPs and BTPs:

Apart from abovementioned training programmes, iCISA, conducted a two weeks "Training and Knowledge sharing exchange programme" for 09 officers of AGO, Maldives from 31st October to 12th November, 2022 under MoU signed between SAI, India and SAI, Maldives.
"IS Audit and Data Analytics" under the aegis of
e-ITEC programme of Ministry of External Affairs, Government of India
(27th June – 08th July, 2022)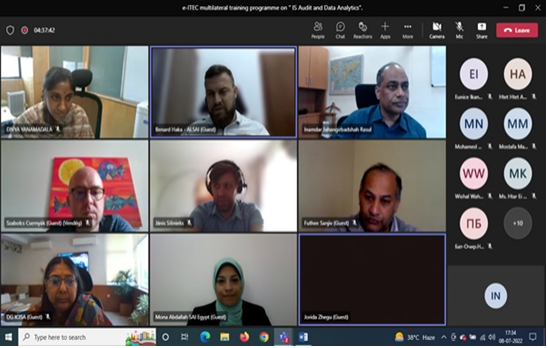 "Auditing in IT Environment" under the ageis of
e-ITEC programme of Ministry of External Affairs, Government of India
(05th September – 16th September, 2022)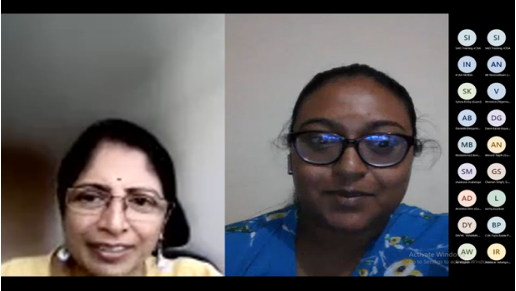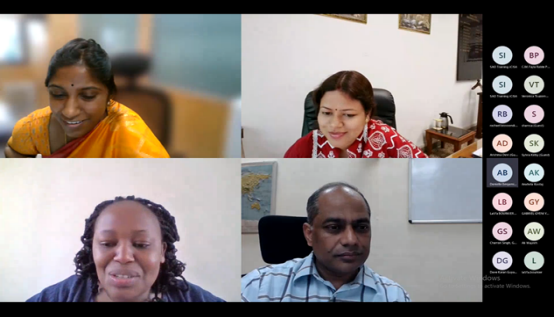 3. International Centre for Environment Audit & Sustainable Development (iCED), as the Global Training Facility (GTF) of INTOSAI Working Group on Environmental Auditing (WGEA) organized International Webinar on "Clean Water and Sanitation" on 26th & 27th September, 2022 in two batches through virtual mode. A total of 47 participants (34 in Batch- I & 13 in Batch-II) from 14 SAIs across the world participated in this programme. Ms. Sayantani Jafa, Additional Deputy Comptroller and Auditor General & Director General, iCED inaugurated the Webinar. She highlighted that access to water, sanitation and hygiene is a human right, yet billions are still facing daily challenges accessing even the most basic services. Achieving universal, adequate, and equitable access to safely managed water and sanitation services is at the core of sustainable development and requires worldwide effort. Before closing, she thanked Mr Sami Yläoutinen, the Auditor–General of Finland and Chair of INTOSAI Working Group on Environmental Auditing and his team from the National Audit Office (NAO), Finland, for their support in organizing this webinar. During this one day Webinar (held in two batches), domain expert from The Energy and Resources Institute (TERI), New Delhi, India provided an overview of Clean Water and Sanitation with respect to SDG 6 and experts from SAI India and European Court of Auditors (ECA) shared their experiences of audit of water and sanitation. Ms. Sayantani Jafa, ADAI and DG, iCED graced the valedictory session of both the batches. She emphasized the importance of this webinar for providing opportunity for sharing of experiences and perspectives from different national contexts. She congratulated the participants and thanked all the resource persons for sharing their experience with participants.