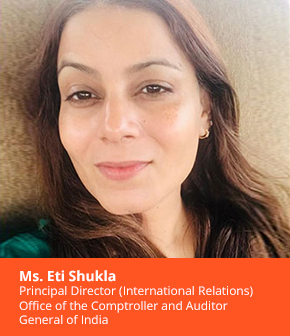 Dear Colleagues,
The theme of the previous edition of this Journal was 'Auditing Climate Change: Carbon Emission and Carbon Finance'. The tremendous response we received from our readers attests to the topical nature of the subject and growing appreciation that we as auditors of governmental action have a significant role to play in ensuring that the munificent bounties of our planet are preserved for posterity as well. Continuing with the general theme of environmental auditing, we have chosen another significant topic viz., plastic waste, for this edition of the journal.
There is no gainsaying the fact that the menace of plastic pollution has reached alarming proportions in recent years. It has been reported that, of the 6.3 billion or so tonnes of plastic waste produced since the 1950s, only 9% has been recycled and another 12% incinerated. The rest has been dumped in landfills or the natural environment.1
Owing to its non-biodegradable property, plastic persists on the surface of the earth for years together, choking plant and animal life, clogging drains and causing all manner of havoc. To add to the problem, micro-plastic pollution has emerged as a new source of concern that calls for urgent and well considered action from Governments all over the world. Microplastics are tiny fragments of plastic waste and plastic fibres whose impact on natural life and environment is yet to be fully comprehended. Due to natural weathering and chemical degradation all plastic waste can degrade into microplastics particles. These particles can spread fast and have even been detected in remote corners of the world thousands of kilometres away from their source. These are small enough to be ingested and incorporated into the bodies of living organisms including humans. Microplastics have even been detected in human blood.
The problem of plastic pollution is global in nature and requires concerted action by Governments. Many Governments have adopted measures, such as banning of single use plastics, setting targets for recycling, and formulating policies for production, use and disposal of plastic. Our role, as public sector auditors, begin from developing a comprehensive understanding of the dimensions of the problem that will enable us to design meaningful audit programs and strategies and generating audit conclusions and recommendations that are actionable, far-sighted and impactful.
The complexity and highly technical nature of the problem necessitates that the global audit community arrive at shared paradigms for effectively framing audit questions, and support each other in developing audit methodologies and tools that enable them not only to recommend corrective actions but also to stimulate policy reforms.
It is my earnest hope that the contributions of our fellow auditors published in this edition of our journal result in more vibrant dialogue and collaboration among our SAIs and inspire us to make a collective impact on the timely management of this problem.
I am grateful to General Chanathap Indamra, Chairman of ASOSAI and Mr Hou Kai, Secretary-General of ASOSAI, for their motivational messages. I thank SAIs of China, Egypt, Korea, India, Indonesia, Maldives, Malta, Serbia, Vietnam and the INTOSAI Working Group on Environmental Auditing (WGEA) for contributing articles for this issue of the journal. My gratitude is due to the authors for their painstaking efforts to bring clarity and comprehensiveness to this issue and throwing light on the various modalities of addressing the same through audit. I shall also reiterate my request here to actively follow our Twitter handle- @AsosaiJournal for accessing the articles published in the journal.
1https://www.economist.com/international/2018/03/03/the-known-unknowns-of-plastic-pollution?gclid=Cj0KCQiAkMGc BhCSARIsAIW6d0CyJAUzyAECvG0OyRSsumNqTBAV9mJ6nBnlvKWGaaMCzoDgdwhNVpQaAiVfEALw_wcB&gclsrc=aw.ds