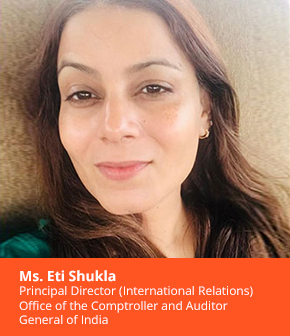 Gender equality is a fundamental right, a moral need and an issue of justice. It is also economically crucial as the potential of the fifty percent population of the world remains partially or fully untapped. Echoing the central promise of the 2030 Agenda for Sustainable Development and its Sustainable Development Goals (SDGs)- 'Leave no one behind', the United Nations, has included SDG 5 which aims to grant women and girls equal rights, opportunities to live freely without discrimination including workplace discrimination or any violence. In pursuance of SDG 5, the nations world over have committed to fast-track progress to achieve gender equality.
However, the Global Gender Report published by the World Economic Forum in 2023 indicates that it will take more than a century to close the global gender gap. While gaps in educational attainment and health and survival are gradually closing worldwide, gross inequality in economic participation, opportunity and political empowerment continues to exist. This inequality can be attributed to the deeply ingrained patriarchal attitudes and the regressive social and cultural practices which continue to exist globally. In many parts of the world it manifests in gruesome practices like femicide, child marriage, trafficking etc. while in other parts it takes the form of gender wage gap, inequality in ownership and freedom of expression and institutional barriers.
The need of the hour is to vociferously oppose all forms of gender discrimination and take bold action by promoting gender sensitive laws, policies and institutions that press forward gender equality. The governments all across the globe need to make significant budgetary allocations in the fields of education, health and creation of job opportunities for women, so as to enable them to become part of various policy making platforms. On a cultural level, we need to raise awareness and sensitize people on this burning issue, by including it in school curriculum, conducting workshops and disseminating information through digital, visual and print medium. On a personal level, seemingly small actions like sharing household chores and gender neutral parenting can make a drastic impact in advancing gender equality.
The Supreme Auditing Institutions (SAIs) play a key role in ensuring transparency, accountability, and good governance in public administration. SAIs being the key oversight bodies can play an important role in enhancing gender equality through their audit work. SAIs can ensure transparent use of funds in the schemes and programmes initiated for women welfare as well as conducting performance audits to make sure the achievement of goals. They can work together with the governments, societies and all other stakeholders, in consonance with national laws and international conventions which can assist the nations in implementation and achievement of the Goal 5 of the United Nations Sustainable Development Goals (SDGs).
It will also be fair to say that the global audit community itself has historically been dominated by men, with fewer women in top positions. To achieve gender equality, SAIs need to focus on gender-neutral recruitment policies, family-friendly work atmosphere, equal training and capacity-building opportunities, ensuring mainstreaming of gender perspectives in the audits, promoting gender-sensitive methodologies and training on collection and analysis of gender-sensitive data, etc.
Promoting gender equality is a continuous process that calls for dedication, constant development, and a team effort from all stakeholders. In addition to regulatory organisations, professional groups, and individuals within the field, SAIs also have a duty to promote gender equality and foster positive change. Together, we can forge a future in which gender equality is the norm, laying the foundation for a more just and inclusive society.
I am grateful to General Chanathap Indamra, Chairman of ASOSAI and Mr Hou Kai, Secretary-General of ASOSAI, for their motivational messages. I thank SAIs of Argentina, Azerbaijan, Brazil, Egypt, Indonesia, Pakistan, Thailand and Turkiye for contributing articles for this issue of the journal. I convey my gratitude to the authors for throwing light on pertinent ways of advancing gender equality through audit. I shall also reiterate my request here to actively follow our Twitter handle-@AsosaiJournal for accessing the articles published in the journal.