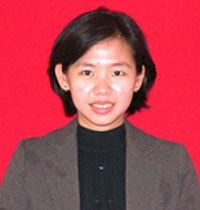 About the Author
Ms. Oktarika Ayoe Sandha is the Head of Compliance Audit Section II at Research and Development Directorate, the Audit Board of the Republic of Indonesia (BPK). She completed her Master's degree at Gadjah Mada University, majoring in Accounting. She has been involved in several ASOSAI projects related to fraud audits and research projects on remote audits. E-mail: oktarika.sandha@bpk.go.id.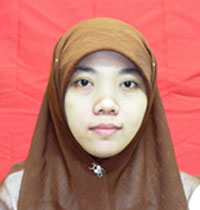 About the Author
Ms. Chandra Puspita Kurniawati is a Policy Analyst in BPK. She is currently pursuing her Master's degree at Padjadjaran University, majoring in public policy. She has been involved in several INTOSAI projects related to developing audit guidance on auditing disasters. E-mail: chandra.kurniawati@bpk.go.id.
Abstract
For years, consumers' requests for green products and limited oversight have together contributed to the rise of greenwashing. Although some believe that it is just corporate cheap talk about environmental performance, in the long term, greenwashing may hamper the achievement of SDGs and thus push governments as well as SAIs to respond accordingly. This study tries to elaborate on the issue of greenwashing, the policy framework around this issue, and how it affects the audit assignment using a study literature review.
The study finds that external, organizational, and individual factors may contribute to creating pressure, opportunity, and possible rationalization for corporates having good communication skills and bad environmental performance to bring about greenwashing. Unintegrated as well as segmented policies also exacerbate the possibility of greenwashing. And thus, this study recommends auditors be able to recognize the red flags of greenwashing and treat them sufficiently in the audit they carry out.
Keywords: audit; auditors; fraud; greenwashing; policy
Introduction
The pursuit of economic growth and the desire to gain the maximum business profit has put shareholder interest to be the main focus of industries for years which then leads to the rising issues of environmental degradation. This phenomenon, later, has shifted the global risk landscape from economic to planetary devastation and made environmental risks dominate the risk profile today.
Responding to the aforementioned issue, people's interest in green products and activities starting to grow from time to time (Kollmuss & Agyeman, 2002). Consequently, corporates should begin to find methods to deal with this issue while at the same time trying to meet the stakeholders' interests and responding to stakeholder dynamics. Hence, environmental issues have been on the corporate radar screen for years (Lyon & Maxwell, 2006).
Subsequently, corporates' value creation comes into existence which necessitates a drastic rethink. On one side, corporates are pushed to pay more attention to the adoption of the 2030 Agenda on Sustainable Development to stay competitive. On the other side, in its way to accomplish the Sustainable Development Goals (SDGs), the government also pushes corporates to comply with their environmental claims as governed by the available policy framework.
Unfortunately, the pattern of green demand as well as pressure from government and shareholders have likely created more pressure on the corporates, and thus, inevitably drive them more vulnerable to sustainability fraud which is widely known as greenwashing (Lockard & Becker, 2009). Moreover, the upward trend of litigation emerging from greenwashing has also been interesting, indicating that the public has started to question and put special attention to the validity and correctness of the "environmental label" given to certain products and activities. This awareness, later, is deployed on how the policy framework responds to greenwashing and protects the public from this misconduct in addition to the government's roles, performance, and compliance in ensuring the green or environmental label appropriateness.
Considering the importance of greenwashing to the achievement of SDGs, this study tries to provide information about greenwashing, its drivers from the fraud triangle perspective, its red flags, Indonesian policies related to greenwashing, and how auditors respond to such issues within audit assignments. And thus, this study is expected to serve a new perspective on the current discourse related to SDGs audits.
Research Method
Study literature review of reports, books, articles from reputable journals, and other relevant resources is used in this study. The policy framework is also critically reviewed. Then, the gathered data is analyzed and interpreted to portray the interesting issues surrounding greenwashing and the related policy framework as well as to design auditors' responses to it.
Result and Discussion
Greenwashing: definition, drivers, and red flags
Since the establishment of the policy framework pursuing environmentally friendly labels, green has become the new black in marketing. The rising demand for green products has led to further problems, that is, not only the products should be green; but the processes related to the products should also be clean and green. Environmental, social, and governance (ESG) issues, then, are transformed beyond corporate social responsibility and believed to lie along the value chain, from raw material production to transporting, processing, packaging, delivery to customers, consumption, and even disposal (Murti, 2022).
Subsequently, corporates are in the flock labeling their products, services, and business processes as green using the words carbon-neutral, energy-efficient, environmentally friendly, bio-degradable, organic, sustainable, and so on. In this case, the more aggressive a company is with its environmental claim, the more likely it is to become the target of greenwashing (Lockard & Becker, 2009). And, consequently, the heavier the responsibility for the government to ensure whether the corporates are truly compliant with the available provisions which make them really green or is it just a greenwashing practice.
Historically, greenwashing is derived from the words green and whitewash which means making false or inaccurate environmental claims about certain products or services (TerraChoice Environmental Marketing, 2007). There are six identified sins of greenwashing, namely (1) sin of the hidden trade-off or advertising a product as green based on one attribute without considering other important environmental issues related to the product, (2) sin of no proof when a claim cannot be substantiated by easily accessible information, (3) sin of vagueness when a claim is so poorly defined or overly broad that an intended customer is likely to misunderstand it, (4) sin of irrelevance when an environmental claim is made that may be truthful but is unimportant or unhelpful to the environmentally- conscious consumer, (5) sin of lesser of two evils when a claim may be true, but it risks distracting the consumers from the greater adverse environmental impacts of the product's entire category, and (6) sin of fibbing when a claim is false (TerraChoice Environmental Marketing, 2007).
In other words, greenwashing is simply defined as manipulating public opinion using a green brand image (Wongkar & Apsari, 2021). There are two types of greenwashing, namely: (1) the act of misleading consumers regarding the environmental practices of a company (firm-level greenwashing) and (2) the environmental benefits of a product or service (product-level greenwashing) (Delmas & Burbano, 2011).
Greenwashing is also about disinformation strategies. Lyon & Maxwell (2006) elucidate greenwashing as an organization that intentionally publicizes disinformation so as to deliver an image as environmentally responsible. This implies a fraudulent message where the public only has little information on the organization's environmental performance and that the organization can drive the distribution of information to deceive the public (Lyon & Maxwell, 2006). In other words, greenwashing needs positive communication skills or a good ability to communicate environmental issues when at the same time a corporate has bad environmental performance.
From the aforementioned definition and condition, it can be seen that there are several factors contributing to the driver of greenwashing. Delmas & Burbano (2011) specifies that there are three drivers of greenwashing, namely external, organizational, and individual factors. External drivers deal with available policies, external monitoring (for example from Non-Government Organizations/NGOs, media, public, or government), consumer demand, investor demand, and competitive pressure. Organizational drivers relate to the organization's general ethical climate (i.e. tone at the top), value, communication, control environment, internal control, and reporting policies. Meanwhile, individual drivers relate to something that is more a psychological condition (for example denial and blaming regulators/competitors).
When discussing greenwashing within the fraud context, it is easier to contextualize the drivers in the fraud triangle. It is simply because the fraud triangle shows the conditions that produce fraud on three clusters, namely pressure, opportunities, and rationalization as figured out in Figure 1 below.
Figure 1. Greenwashing Triangle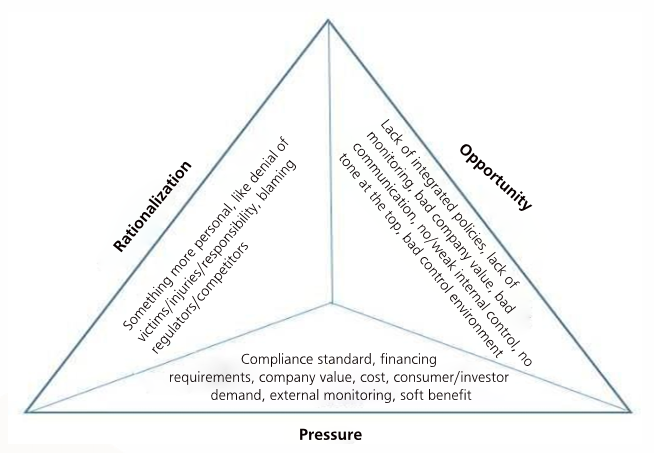 Source: from Delmas & Burbano (2011), KPMG (2020)
As greenwashing is a specific form of fraud, red flags can emerge as warning signs. Inconsistencies of the public disclosed ESG stories (i.e. inconsistency of Chief Security Officer's public statement versus what is published in corporate's sustainability reporting versus corporate's a web/social media publication versus news publicized by mass media) is one important red flag that is relatively easy to find. Other possible red flags are the corporate's negative publication which is directly accompanied by its counteraction, bad ratings/publications on the corporate, unreliable and not credible disclosure, the revisited/redesign corporate's purpose to accommodate the raising challenges it has, no available ESG policy in the organization, no supporting/insufficient system/structure on ESG, no corporate's ESG key performance indicators, troubled relevant stakeholders with which the corporate cooperate, and unaddressed issues/activities on corporate's operations although they have widely known for their impact to environment carrying capacity.
Policy framework and related in charge parties
As implied, greenwashing is not only harmful to consumers but also violates their rights. Unfortunately, in many countries, including Indonesia, a greenwashing-related policy framework is tremendously limited, segmented for certain sectors, as well as less integrated and thus, its implementation, monitoring, and enforcement seem unsettled. To date, the Consumer Protection Law (i.e. Law No. 8 of 1999 on Consumer Protection) can be considered as a policy umbrella to fortify consumers against greenwashing practices. In this case, Article 4 point 3 describes consumers' fundamental rights to correct, clear, and honest information about goods and services conditions and guarantees. Further, Article 8 prohibits business people from misleading their consumers. The only sanction is stipulated in Article 62 which states that producers who violate the law will be imprisoned for a maximum of five years or fined IDR 2 billion.
Further, related to the environmental issue, Article 68 Law No. 32 of 2009 on the Protection and the Management of the Environment has mandated business people to provide correct, accurate, open, and timely information regarding environment protection and management. It means that greenwashing violates people's right to a good and healthy living environment as mandated by the law.
In the lower level of statutory provisions, although some policies have been established, the problems of unintegrated policies rise. Some ministries and institutions are authorized to deal with greenwashing-related issues and accordingly establish some policies as shown in Table 1 below.
Table 1. Policy Framework Related to Greenwashing in Indonesia
Ministries/Institutions
Policies/ Regulation
Policy Target
Policy Subject
Linkages to Greenwashing
Ministry of National Planning
Medium-term national development plan 2020 - 2024
Encouraging resources efficiency, circular economy, low carbon development strategy
All line Ministries/institutions

Closely related
Regulating the right to a good and clean environment

Medium-term national development plan 2025 - 2029
Encouraging sustainable development and investment
All line Ministries/institutions
Ministry of Environment and Forestry
Ecolabel (Minister of Environment and Forestry Regulation No. 5 of 2019)
Providing accurate, verified, and not misleading information on environmental aspects of the products (goods/ services)
Corporates

Closely related
Ensuring accurate and not misleading information on offered goods/ services

Company performance appraisal – PROPER (Minister of Environment and Forestry Regulation No. 1 of 2021)
Evaluating companies/ corporates' environmental performance
Corporates

Closely related
Providing consumers with information on certain companies' environmental performance

Ministry of Industry
Green Industry Standard (Minister of Industry Regulation No. 51/M- IND/PER/6/2015)
Providing references for the green industry
Corporates

Closely related
Ensuring the Fulfillment of the environmental rights

Low-cost green car (Minister of Industry Regulation No. 33/M- IND/PER/7/2013)
Providing cheap and environmental friendly four-wheeled vehicles
Four-wheeled vehicle users

Closely related
Ensuring the environmental claim on four- wheeled vehicles

Ministry of Agriculture
Indonesian sustainable palm oil system (Minister of Agriculture Regulation No. 38 of 2020)
Ensuring sustainability issues for palm oil industries
Palm oil actors

Closely related
Managing sustainable production and consumption

Ministry of Finance
Green Sukuk Ritel referring to Government
Green investment instrument
Investment actors
Regulation No. 73 of 2012)
Corporates

Offering sustainable finance

Financial Service Authority
Sustainable Finance (Financial Service Authority Regulation No. 51 of 2017)
Promoting sustainable finance
Financial service institutions, Issuers, and Public companies

Closely related
Maintaining finance sustainably

Green bond (Financial Service Authority Regulation No. 60 of 2017)
Promoting green financing
Corporates, environment experts

Closely related
Providing examples of eligible green project
The analysis of the available policies also shows that there is an absence of several important issues related to greenwashing in the available policies, such as (1) unclear greenwashing parameters including their information dissemination, (2) government monitoring of green labels, (3) integration of consumer protection, right for a good and clean environment and green products, (4) mainstreaming education on anti-greenwashing to encourage people's critical thinking toward greenwashing practices, as well as (5) strict sanctions on corporates or any relevant parties who violate the laws and available provisions or carrying greenwashing practices.
Auditors and Greenwashing: How Are They Interconnected?
If greenwashing deals more with the corporate, why should auditors be aware of this issue? Environmental problems, including greenwashing, and efforts to achieve SDGs are a shared responsibility among stakeholders. Besides, to date, environmental crime has been rising which brings more threats to the people and the planet. On one hand, government, perhaps, will encounter many obstacles in its efforts to monitor and evaluate the policy implementation. On the other hand, INTOSAI P-12 has expected SAI's existence to make a difference in the lives of citizens. Auditors have indispensable roles to play in nurturing people's trust by translating some information of an accountancy nature to meet public interest exercise. In this case, auditors should respond accordingly to the evolving issues and reporting requirements related to ESG, including greenwashing. The possible relationship between SAIs and the government can be illustrated in Figure 2 below.
Figure 2. The SAIs – Government Relationship Regarding Greenwashing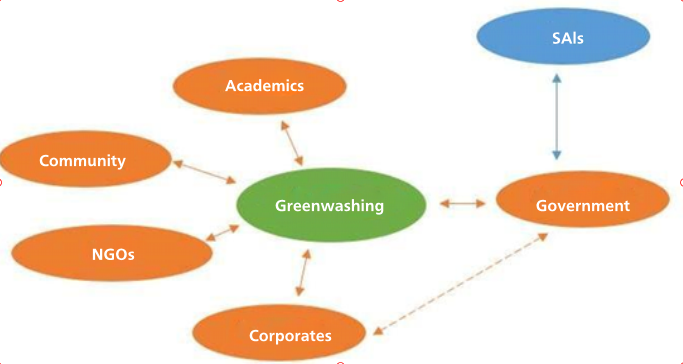 When possible and/or mandated by the available provisions, auditors can carry out audits to examine the discrepancies between available policy frameworks and their implementation of greenwashing. Besides, since fraud is considered to have significant risks, it is also important for auditors to obtain a sufficient understanding of the government's control on greenwashing when auditing relevant issues. The possible audit design for greenwashing is provided in Table 2.
Table 2. Audit Design on Greenwashing
Types of audits
Performance/compliance audit
Responsible party
Ministers of respective sampled ministries
Subject matter

Anti-greenwashing regulation;
Anti-green washing disclosure'
Greenwashing mitigation, prevention, detection, investigation

Audit objectives

To examine audited entities' compliance toward the available policy framework related to anti-greenwashing regulation, mitigation, prevention, detection, investigation;
To examine the effectiveness of green labeling;
To examine the sufficiency of policy design to mitigate, prevent, detect, and investigate greenwashing;
To examine the effectiveness of anti-greenwashing mitigation/prevention/detection/investigation programs/activities

Audited entities

Ministries/institutions that provide anti-greenwashing regulations/policies
Ministries/institutions implementing anti-greenwashing regulations/policies
Ministries/institutions evaluating anti-greenwashing regulations/policies
Institutions investigating greenwashing practices

Audit criteria
Available policy framework: laws, lower level statutory provisions, technical guidance, best practices
Conclusion
The consensus among the government and business community on moving the UN 2030 Agenda further has been clear. Nevertheless, putting SDGs at the core of the policy framework which enables the government to monitor and control the corporates' design and implementation strategies for anti-greenwashing remains a challenge. Although the number of corporations that provide sustainability reporting continues to grow today, poor disclosure practices can be linked to negligence of the compliance function. In this case, when compliance has no understanding of the underlying factors of ESG-related strategies, the establishment of adequate control and their enforcement remains a challenge. And where effective controls, adequate policies, and sufficient procedures to examine them are lacking, the risk of greenwashing will in the end threaten the country's SDGs' target achievement.
The government only has less than ten years to achieve SDGs. Accordingly, SAIs support is indeed urgently needed to support the government to ensure that its roadmap is back on its right track. SAIs should commit not only to becoming problems finder but also to creating value for the people and the planet. This can be done, among others, by ensuring that their audit programs have taken into account SDGs related issues and considering their red flags, including ones related to greenwashing. Through audits, SAIs may recommend the enforcement of policy framework, as well as segregation of duties among ministries/institutions on the greenwashing regulation, mitigation, prevention, detection, and investigation.
Reference
Delmas, M. A., & Burbano, V. C. (2011). The Drivers of Greenwashing. California Management Review, 54(1), 64–87.
https://journals.sagepub.com/doi/abs/10.1525/cmr.2011.54.1.64%0A
https://www0.gsb.columbia.edu/mygsb/faculty/research/pubfiles/14016/cmr540 1_04_printversion_delmasburbano.pdf
Kollmuss, A., & Agyeman, J. (2002). Mind the Gap: Why do People Act Environmentally and What are the Barriers to Pro-environmental Behavior? Environmental Education Research, 8(3), 239–260. https://doi.org/10.1080/13504620220145401
KPMG. (2020). The Rising Challenge of Sustainability Fraud. KPMG Accountants N.V. https://home.kpmg/nl/nl/home/insights/2020/06/the-rising-challenge- of-sustainability-fraud.html
Lockard, V. D., & Becker, J. (2009). Greenwashing Claims: How to Avoid Becoming an Eco-fraud Target. Australian Product Liability Reporter, May, 7–14.
Lyon, T. P., & Maxwell, J. W. (2006). Greenwash Corporate Environmental Disclosure Under Threat of Audit. Journal of Economics & Management Strategy, January 2006, 1–37. https://doi.org/10.1111/j.1530-9134.2010.00282.x
Murti, P. (2022). Defending Against the Risk of Greenwashing: Navigating the Fraud Risk Profile of ESG. PwC Indonesia.
TerraChoice Environmental Marketing. (2007). The Six Sins of Greenwashing: A Study of Environmental Claims in North American Consumer Markets (Issue November).
Wongkar, E. E. L. ., & Apsari, P. K. (2021). Telaah Kebijakan Sustainable Consumption and Production (SCP) dalam Merespons Fenomena Greenwashing di Indonesia Pada Era E-Commerce (R. G. Sembiring & G. A. Widyaningsih (eds.)). Indonesia Center for Environmental Law.