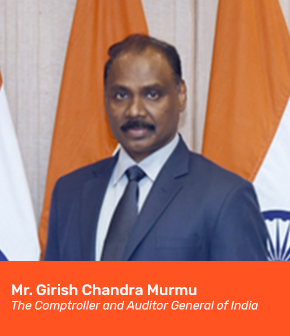 Dear Colleagues,
My greetings to all the distinguished members of the ASOSAI fraternity. ASOSAI has displayed exemplary leadership within the INTOSAI community by promoting the exchange of ideas and experience in public audit amongst its members. Since 1983, the Asian Journal of Government Audit [ASOSAI Journal] has contributed immensely to this cause by being its voice and a popular resource for the SAI community by providing a forum for sharing knowledge and experience. Over the years, the Journal has also played an important role in facilitating debate and discussions which has led to improvement in auditing practices.
Striving and constantly enhancing our efforts, SAI India, in 2019, envisioned to augment and revamp the Journal. This initiative aims to provide our readers with improved features, quality content, interactive and mobile friendly designs, and a social media platform to reach out to the vast family of public auditors and wider accountability fraternity.
The new and digitized ASOSAI Journal will pave the way for ASOSAI to connect better, share better and lead better. Despite innovations in communication, the journal will continue to serve as a dynamic medium to bring together the finest minds of ASOSAI to showcase and share expertise not only in the field of public audit but also in related areas of interest. Moreover, it will redefine the ways of knowledge sharing across ASOSAI.
This enhancement was not possible without the unflinching support of the Governing Board members of the ASOSAI. I would, in particular, like to thank the esteemed Chairman and Secretary-General of ASOSAI for their continued support and cooperation in this endeavour. I also take this opportunity to thank all other member SAIs of our organization for their contribution in achieving this goal.
With this, I am pleased to launch the new website, the Twitter handle and the redesigned April 2021 issue of the Journal. The theme of this issue is "Emerging Technologies in the field of Audit". In addition, the issue also covers articles on themes such as "Auditing the implementation of SDGs", "Disaster management", and "COVID- 19 Pandemic: Digital Innovation." I thank SAIs of Bhutan, China, Egypt, Indonesia, Japan, Kazakhstan, Korea, Kuwait, Philippines and Vietnam for contributing articles for the April 2021 issue of the Journal.
I am also grateful to Mr Tran Sy Thanh, Chairman of ASOSAI, and Mr Hou Kai, Secretary-General of ASOSAI, for their valuable messages.
I encourage the readers to visit our new website as well as Twitter handle and provide valuable feedback to continuously improve the quality of the Journal.