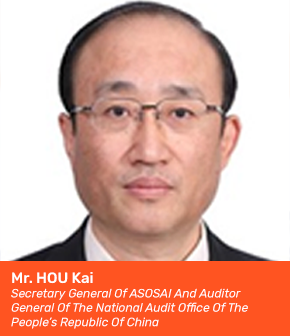 From the Desk of the Secretary General of ASOSAI
As Secretary General of the ASOSAI, I wish to take this opportunity to express my warm greetings and heartfelt wishes to all colleagues and their families across the Asian public sector auditing community.
Plastic, a kind of synthetic resin material, was invented merely over 100 years ago. However, it has evolved from a necessity facilitating socio-economic growth into one of the most threatening challenges to the global ecology and environment. Statistics from United Nations Environment Programme (UNEP) show that plastic production soared from 2 million tons in 1950 to 348 million tons today. 8 million tons of plastic waste enters the ocean every year, which breaks up into microplastic particles over time and then drifts to every nook and cranny of the ocean on currents. Microplastic particles are found even in the surface waters of the Antarctic region. In August 2019, a WHO report Microplastics in drinking-water1 noted that microplastic particles are ubiquitous in the environment and have been detected in oceans, waste water, fresh water, food, air, as well as portable and running water, with different concentrations. Pollution is a universal problem, and plastic waste out of control will encroach on rivers, oceans, and soil worldwide. What makes people concerned is that fast-growing marine plastic waste has deteriorated marine ecology and environment, which led to a decrease in the number of marine species, and even jeopardized human health. Such changes matter to everyone. Countries around the world are making unremitting efforts to effectively grapple with plastic waste pollution and have reached a certain consensus. Several effective measures are underway. In February 2022, Mr. Espen Barth Eide, President of the fifth session of the UN Environment Assembly, delivered a speech at the UNEA-5 in Nairobi, Kenya. "The world is intimidated by three global eco-crises," I quote, "climate change, biodiversity loss, and pollution. If there are no immediate measures, plastic pollution will enlarge its hazard and threaten human subsistence. But if we move into a circular economy, plastic will be a product that can be used over and over again." That session also endorsed a draft resolution to End Plastic Pollution, a legally binding agreement targeting to promote the elimination of plastic pollution worldwide.
INTOSAI's 2013 Beijing Declaration clarifies that INTOSAI will continue to focus its attention on researching major issues of global and regional importance and provide SAIs with effective guidance and reference for risk response. In September 2022, INTOSAI WGEA officially launched the document on Auditing Plastic Waste: Research and Audit Benchmarks for Supreme Audit Institutions developed under the Quality Assurance procedure for non-IFPP documents. It marks that auditing plastic waste has emerged as a pioneering audit topic catering to future development trends of audit work, and is also a norm for all SAIs. As one of the regional groups of the INTOSAI, ASOSAI has been committed to promoting and strengthening cooperative governance of the regional environment among all member states with high-level solidarity, collaboration, and vitality. To effectively address plastic waste pollution and better encourage all nations to implement their responsibilities for environmental governance, an increasing number of SAIs have listed or is planning to list this topic on their agenda, and we have seen some promising results. I am convinced that we will surely prevail over the challenges posed by plastic waste pollution with concerted efforts of all.