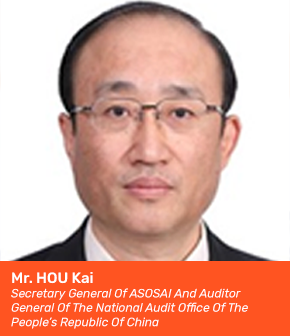 From the Desk of the Secretary General of ASOSAI
In a world changing rapidly, we are constantly facing new reforms and challenges. In the meantime, scientific and technological advancement is picking up speed with various new technologies continuing to emerge. Key technologies such as big data analytics, artificial intelligence, block chain, 5G network and machine learning bring new challenges to public sector auditing as well as new opportunities for the development of audit profession. In addition to auditing in the fields of science and technology, many SAIs are also proactively exploring the application of emerging technologies to their work. In particular, SAIs are eager to use emerging technologies in the context of COVID-19. During the pandemic, increasing number of SAIs are carrying out audits using remote auditing and big data analytics technologies to ensure audit institutions' continuity and value.
As the Beijing Declaration endorsed at the XXI INCOSAI in 2013 states, "it is crucial that the audit methods of SAIs are based on current scientific and technical knowledge." The Moscow Declaration passed at the XXIII INCOSAI in 2019 also indicates that "to ensure value and benefits, SAIs and INTOSAI need to be able to apply new approaches and take advantage of opportunities to meet emerging challenges," and calls SAIs to "respond effectively to opportunities brought by technological advancement." In addition, INTOSAI has set up a new Working Group on Impact of Science and Technology on Auditing to help SAIs orient their audit strategy in the face of technological development.
"Emerging Technologies in the Field of Audit" has been selected as the main theme of this issue of Asian Journal of Government Audit, an important knowledge-sharing platform for SAIs in the ASOSAI region. I hope this issue of the journal will be of some help for Asian SAIs to learn from each other's experience in using emerging technologies, seize opportunities brought by new technologies, build capacity in applying audit technologies, and enhance the overall performance of SAIs by taking advantage of emerging technologies.
Asia is one of the most dynamic regions in the world in terms of technological innovation. ASOSAI will continue to promote the sharing of knowledge on emerging technologies among its members SAIs, and facilitate the development of its member SAIs' capacity in leveraging emerging technologies. Let us embrace the historic opportunities brought by technological advances, innovate our work, and further the development of public sector external audit profession.