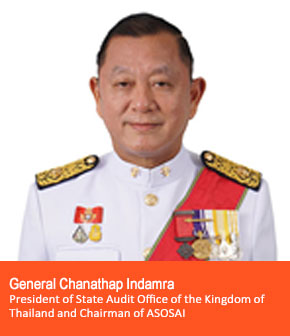 From the Desk of Chairman of ASOSAI
Since 2020 our world has moved to the next normal era. The Covid-19 pandemic changes public sector auditing in at least two issues. The first reflects the power of digital disruption, which could improve audit methodologies through remote working, big data analytics, and real-time audit. Disruptive technology could leverage audit tasks and develop audit efficiency. The concept of 5ABCDI could transform traditional SAI into SMART SAI in the future. 5ABCDI consists of 5G, AI, Blockchain, Cyber Security, Data Analytics, and the Internet of Things (IoT). Certainly, SAI should prepare the digital transformation in the future.
For the next issue, the pandemic makes SAI consider the various roles. Some SAIs play the advisory role in giving constructive recommendations through non-audit products. The non-audit products might cover the measures, research, and tools that could support good public financial management by oversight function. Likewise, some SAIs extend their paradigm set to insight and foresight. The new audit paradigm could create value and benefit for citizens.
In the meantime, SAI could support the green economy through environmental performance auditing. In addition, chapter II of the 2021 Bangkok Declaration encourages SAIs to promote the SDGs' achievement. Interestingly, the characteristics of a green economy are low-carbon, resource-efficient, and socially inclusive. Therefore, SAI plays a key role in sustaining the green economy. The auditing of plastic waste is the topic on which SAI could conduct the audit. The reduction of plastic waste represents sustainable consumption and production (SCP). SCP aims to improve production processes and practices to reduce resource consumption, waste generation, and emissions across the full life cycle of processes and products.
Finally, we are in a new era of challenges. The future of SAI will lead to both SMART and GREEN SAI.