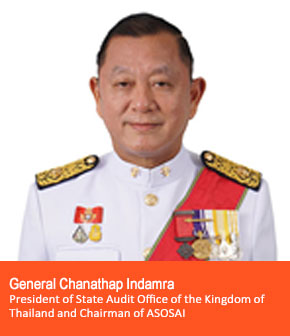 From the Desk of Chairman of ASOSAI
SAI Thailand being the ASOSAI Chairman from 2021-2024, appreciates SAI India as the Editor of ASOSAI, for proactively contributing towards ASOSAI knowledge sharing through ASOSAI Journal. In these uncertain and ambiguous times of pandemic, there are several issues for which SAIs have to prepare themselves to respond to the challenges, like adapting innovative working style for the next normal, learning about new knowledge areas, upskill in digital era and also work towards the betterment of this world for the next generation.
Certainly, SAIs have to always prepare themselves for the future by developing the capacities of the auditors.
The key issues that the SAI community has to prepare for while auditing climate change.
Even though our community has given importance to the topic of climate change in the last ten years, the auditing techniques seem to have improved. From the knowledge dataset of INTOSAI WGEA, we found more than four hundred articles and news, which mentioned the role of SAIs and climate change. Definitely, auditing climate change is the global trend of our community.
Last year, SAI Thailand as the host of 15th ASOSAI Assembly, presented the Bangkok Declaration 2021 which was approved by our ASOSAI members. The Bangkok Declaration indicates the preparation of SAIs for the next normal era. The Chapter two of Bangkok Declaration 2021 also recognizes the Hanoi Declaration 2018, which promoted the SAIs to support SDGs audit and environmental audit. For this year, SAI Thailand has been the project leader of cooperative research of ASOSAI WGEA, which has been studying the role of SAIs in auditing climate finance.
As the project leader, SAI Thailand set up the main research question which is How can SAI promote the transparency and accountability in the climate finance? We attempt to develop the conceptual framework for auditing climate finance for both mitigation and adaptation. Likewise, we try to implement the Sustainable Finance Index (SFI) as the initiative tool for SAIs to monitor the situation of climate finance. We believe that the contribution of this study could suggest a new conceptual framework for auditing climate finance. Meanwhile, we could implement SFI as the new tool for assessing the situation of climate finance.
Finally, SAI Thailand always supports SAI India and ASOSAI e-journal as the main mechanism to share the audit knowledge and experience in our ASOSAI community.