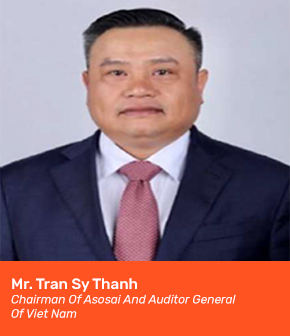 From the Desk of Chairman of ASOSAI
Greetings to ASOSAI members and all readers!
First and foremost, on the occasion of the publication of ASOSAI Journal's first issue of 2021, I would like to extend my respectful greetings to ASOSAI members and readers. It is my honor to announce that on April 7th, 2021, at the 11th Meeting of the XIV National Assembly of the Socialist Republic of Viet Nam, I was elected to the position of Auditor General of the State Audit Office of Viet Nam, meaning that I would assume the responsibilities of ASOSAI Chairman during the tenure of 2018-2021 from my predecessor - Mr. Ho Duc Phoc, who has now undertaken the management of the Minister of Finance. It is an opportunity that has enabled me to have a wider grasp of not only ASOSAI but also about our mission and goals towards building a stronger community of Supreme Audit Institutions. Furthermore, I also would like to express my sincere appreciation to ASOSAI members, in general and to the SAI of India Chief Editor of ASOSAI Journal, in specific for their great endeavor and continuous contribution to the refurbishment of ASOSAI Journal which has been appraised as a valuable resource for knowledge sharing and cooperation for mutual benefits among our community.
With the objectives of improving the quality and disseminating best practices in the field of governmental audit professionally and comprehensively, this edition of ASOSAI Journal concentrates on the theme of "Emerging technologies in the field of Audit", which has attracted a lot of attention and research around the world and the region since emerging technologies has been continuously proving to their act in supporting management in almost Asian countries. Particularly, taking the global socioeconomic crisis caused by the current COVID-19 pandemic into consideration, the role of the Supreme Audit Institutions as an efficient agent to ensure the effectiveness and efficiency of both public policies and services and national target programs on emerging technologies has become widely recognized.
Over the past few years, INTOSAI's regional organizations, including ASOSAI, have successfully implemented knowledge sharing activities in various forms of seminars, workshops, cooperative audits, research projects on audits in the field of emerging technologies with the application of ISSAI (The Cooperative Scientific Research project of ASOSAI Working Group on Environmental Audit Application of big data analytics in environmental auditing in 2019; The 12th ASOSAI Research project on Audit on Implementation of SDGs (leveraging digital or big data to achieve the SDGs from 2018-2021), especially Capacity Development Program of ASOSAI on Information Technology Audit during the term of 2018-2019. Additionally, with the view to better affirming and further promoting the role of SAIs in the context where the world and the region are facing great challenges related to emerging issues and other emergency situations, ASOSAI Journal's first issue of 2021 also expanded its content with 03 added topics, including: (i) Auditing the implementation of SDGs; (ii) Crisis and disaster management; (iii) COVID- 19 Pandemic: Digital Innovation.
I believe that the nominated topics and articles to be discussed in this edition will create valuable opportunity to share views, experiences and good practices in the field of public auditing among ASOSAI members and will simultaneously highlight our community's efforts in approaching and implementing areas of great concern such as sustainable development goals, crisis management and digital initiatives in the context of the COVID-19 pandemic to provide solutions and contribute to the development of public auditing at national, regional and international levels.
Last but not least, I would like to convey my best wishes of health, happiness and success to all ASOSAI members and readers.