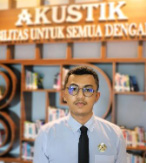 Mr. Muhammad Rafi Bakri is an alumnus of the State Finance Polytechnic of STAN in Accounting Study Program, where he was an Outstanding Student in 2020. At BPK, Rafi works as a financial manager, which is a vital supporting part, and has succeeded in bringing BPK Representative Office in Jambi Province as the 1st Winner of the 2021 DIPA Management Unit. Rafi has also written and published several journal articles related to economics, accounting, and public finance.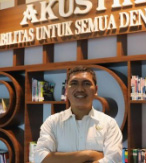 Mr. Gilbert Simson Gattang is an alumnus of D3 Accounting at State Finance Polytechnic of STAN. After completing the official bond vocational school, Gilbert continued his Bachelor's Degree in Accounting at the Universitas Terbuka and became the Outstanding Student of 2020. Currently, Gilbert is continuing his bachelor's degree in Law at the same university. At BPK, Gilbert works as a financial analyst in the finance sub-section of the BPK Representative Office in Jambi Province. Gilbert's 4 years of work experience in financial analysis have brought the representative office a 2nd Place for the Best DIPA Management Unit (Budget Executor) in 2018 and 1st Place for Best DIPA Management Work Unit (Budget Implementation) in 2021.
Abstract
Carbon gas emissions is a problem throughout the world, including Indonesia. Various ministries are coordinating with one another to overcome this. To ensure the achievement of the target, BPK conducts performance audits on the executing ministry. This research is a qualitative research using semi-structured interviews and content analysis methods. The researchers found that according to the results of BPK's audit, the activities carried out to reduce carbon gas emissions still need to be improved. This has caused many activities not meeting their targets.
Introduction
Indonesia is one of the ratifying countries of the Framework Convention on Climate Change (UNFCCC) and the Kyoto Protocol. The Government of Indonesia has ratified the Climate Change Convention through Law Number 6 of 1994 concerning Ratification of the United Nations Framework Convention on Climate Change. Indonesia's commitment and contribution were again demonstrated by ratifying the Paris Agreement in New York on 22 April 2016. As a ratifying country, Indonesia is committed to making efforts to reduce greenhouse gas emissions and actively prevent climate change.
The Indonesian government is committed to the issue of climate change. The commitments contained in the Nawa Cita became the basis for preparing Indonesia's First Nationally Determined Contribution (NDC) document, which was submitted to the United Nations Framework Convention on Climate Change (UNFCCC) in November 2016. Indonesia's First NDC outlines Indonesia's transition to a low-emissions and climate-resilient future. Moreover, the Government of Indonesia through BPK issued the Regulation Number 3 of 2020 concerning the 2020-2024 Strategic Plan of the Audit Board. BPK will prepare reliable and professional auditors to strengthen audit resources by collaborating with professional organizations. In order to respond to global issues, BPK has designed an audit strategy that can oversee the implementation of the Sustainable Development Goals (SDGs).
INTOSAI, at the congress in Abu Dhabi in 2016, agreed to oversee the SDGs program in their respective countries. INTOSAI agreed on four approaches to examining the SDGs as contained in the first theme of INCOSAI XXII (International Congress of Supreme Audit Institution), namely: (1) assessing a country's readiness to implement the SDGs; (2) performing performance checks on the implementation of government programs that have aspects of the SDGs; (3) assessing and supporting the implementation of the 16 SDGs goals concerning effective, accountable, and transparent institutions; and (4) being a role model for transparency and accountability in the governance of their respective organizations, including in auditing and reporting activities.
Alignment of BPK audit theme with the 2020–2024 RPJMN/RPJMD (National/Local Medium-Term Development Planning) will be carried out through national/local thematic audits and other significant examinations. Based on the 2020-2024 RPJMN, there are seven national development agendas, one of which is the environmental development agenda with the following targets: (1) improving the quality of the environment; (2) enhancing disaster and climate resilience; and (3) low carbon development.
Theoretical Framework
Agency Theory
In public sector accounting and auditing, one of the problems that often occurs is the agency problem. According to Adams (1994), agency theory shows the relationship between owners of economic resources (principals) and those who control the resources (agents). Agents as resource controllers certainly have more information than the principal, so the principal has difficulty in carrying out supervision (Hanne et al., 1990). Moreover, agents can take advantage of these conditions to satisfy personal interests.
The next problem that can occur is from the principal himself. The principal assumes that the agent commits fraudulent acts, then the principal as a policymaker does the same thing, such as reducing the allocation of resources to increase personal wealth (Mitnick, 2011). Adverse selection can occur because the principal does not have perfect information regarding his resources, so the principal makes a policy from the imperfect information (Panda & Leepsa, 2017). Scapen (1991) states that this principal-agent problem is a moral hazard in public sector accounting.
To overcome this moral hazard, both the principal and the agent will incur costs. After the agency costs are incurred, there is Pareto-Optimality in the contract (Shankman, 1999). The principal can incur supervision costs to monitor the performance of his agents in managing existing resources so that the principal becomes more aware of the available information. The supervision fee will be compensated to the agent's salaries. Therefore, agents will maximize resource management so that their salaries are not compensated by incurring costs for internal audits. With an internal audit, the risk of mismanagement of resources can be minimized (Shapiro, 2005).
Research from Stanford University (1989) suggests that the agency problem is a problem found in almost all organizations, including the government. This agency theory tells us that there is always a practice of self-interest in the organizational world, whether we like it or not. Agency theory also suggests two important pieces of information for organizational life. The first is the treatment of information. Information is considered a commodity that has a cost and can be purchased. This shows how important information systems are in organizations, especially the government (Wehmeyer et al., 2017).
The second piece of information in agency theory is related to the risk. Organizations are assumed to have no clear future. Organizations may be faced with prosperity, bankruptcy, or some intermediate outcome, and that future is only partly controlled by organization members. Uncertainty is viewed in terms of risk/reward trade-offs, not just in terms of inability to preplan. The implication is that outcome uncertainty coupled with differences in willingness to accept risk should influence contracts between principal and agent (Eisenhardt, 1989).
Institutional Theory
The institutional theory states that an institution can experience change because it adopts another organizational structure and management considered better than the organization itself (Carpenter & Feroz, 2001). The condition in which an organization changes the structure and management of the organization itself for various reasons is called an isomorphism (Campbell, 2007).
Dacin (2002) identified three major sources of pressure on institutionalized norms or practices; functional, political, and social sources. Functional pressures for deinstitutionalization are those that arise from perceived problems in performance levels or the perceived utility associated with institutionalized practices. These pressures may be tied to broad environmental changes, such as intensified competition for resources (Kostova et al., 2008).
Institutional change can proceed from the most micro interpersonal and suborganizational levels to the most macro societal and global levels. It can take place in relatively brief and concentrated periods or over time measured in decades or centuries. (Suddaby, 2010). BPK as a member of ASOSAI and INTOSAI, always cooperates and exchanges ideas with SAIs of other countries. Through these activities, a new audit policy or approach can be applied by BPK.
Research Method
This is a qualitative research that uses a content analysis method and semi-structured interview. Interviews were conducted to complement and convince researchers regarding the content analysis that has been carried out. The interviewees are the BPKs auditor who involved in the carbon-related audit.
The main method used in this research is content analysis. Content analysis is a research method for making reproducible and valid inferences from data about the context, with the aim of providing knowledge, new insights, factual presentations, and practical guides to behavior (Elo & Kyngäs, 2008). Bengtsson (2016) and White & Marsh (2006) found that content analysis can be applied to all types of text, regardless of the source of the material. In addition, there are no special rules you need to follow, such as detailed interviews, focus group interviews, individual written questions, open questions such as surveys and situational observations, images and movies.
The documents used in the content analysis are audit reports and an overview of semester audit results from two ministries, namely the Ministry of Environment and Forestry and the Ministry of Energy and Mineral Resources. These two ministries oversee carbon issues in Indonesia.
Result and Discussion
Forest Investment Program – Project I
Deforestation, forest degradation and peat decomposition account for about 15% of greenhouse gas emissions globally and up to 60% in Indonesia. Through the Indonesia Nationally Determined Contribution (INDC), the Government of Indonesia plans to reduce greenhouse gas emissions by 29% of the APBN (state budget) in 2013 and 41% with international budget support. The project issued by INDC is called Forest Investment Program-Project I (FIP-1). FIP-1 received support from the Asian Development Bank (ADB) because it relates to an SDG's goal.
The execution of this program is a cross-directorate national program at the Ministry of Environment and Forestry. This program involves various experts at the central and regional levels. The outcome of this program is a reduction in carbon emissions of 3.7 million tons by 2026 and an increase in community income by 20% from the initial conditions in the Kapuas Hulu area.
In order to achieve this outcome, BPK needs to conduct an audit-related to grant funds from ADB for the FIP-I Project. The scope of the audit consists of (1) Annual Plan and Actual Project Expenditure and Financing, (2) General Consolidated Cummulative Project Financing and Expenditure, (3) General Consolidated Annual Plan and Actual Project Financing and Expenditure and (4) Realization Budget DIPA fiscal year 2019 for each Implementing Agency (IA).
BPK found conditions related to weaknesses in the internal and operational control systems. BPK's findings on the administration of fixed assets obtained from goods expenditures by the Project Support Unit (PISU) consultant services were insufficient. This resulted in not presenting complete information on the purchase of fixed assets amounting to Rp1,035 billion so that there would be high losses. BPK recommends that the Minister of Environment and Forestry revise the consultant service contract based on these weaknesses.
In addition, BPK also found non-compliance in testing compliance with regulations in the 2019 FIP-I Project Financial Report. The non-compliance found was a four-wheel vehicle work package that used grant funds exceeding the standard guidelines for the cost of activities of the Ministry of Environment and Forestry. These problems resulted in inefficiency in the procurement of facilities and infrastructure of Rp. 258 million, which was caused by (1) the unit price in the Annual Work Plan (AWP) exceeding the proper guidelines, (2) the Commitment Making Officer not being careful in preparing the estimated price, and (3) the Budget User Authority lack of supervision and control over the implementation of the budget. BPK recommends that the relevant ministry as the executing agency of FIP-I tighten supervision and more orderly control over the budget execution of the project. BPK also recommends giving sanctions according to the provisions to related parties so that the same mistake does not occur.
BPK monitors the follow-up of the Ministry of Environment and Forestry on the recommendations that have been given. The results of follow-up monitoring of examination findings are as follows.
Table 1. Monitoring of Audit Follow-Up
| No. | Year | Number of Findings | Number of Recommendation | Appropriate-Follow Up | Unappropriate-Follow Up |
| --- | --- | --- | --- | --- | --- |
| 1. | 2018 | 2 | 2 | 2 | 2 |
| 2. | 2019 | - | - | - | - |
Source: BPK Report
Bio Carbon Fund Initiative for Sustainable Forest Landscape in Jambi
The BioCarbon Fund Initiative for Sustainable Forest Landscape (BioCF-ISFL) is a multilateral facility program supported by donor governments and managed by the World Bank. The concept of this program is to manage agricultural expansion and land use to minimise forest loss and increase carbon emissions. Besides Indonesia, other countries participating in the BioCF-ISFL are Ethiopia, Colombia, and Zambia.
In the preparation stage, the World Bank gave a grant of Rp. 19.95 billion according to the cooperation agreement between the Government of Indonesia (Ministry of Finance) and the World Bank on October 31, 2018. The activities at this stage are divided into (1) Data Management, Baseline and MRV System, (2) Capacity Building, (3) Policy and Institutional Arrangement, (4) Benefit Sharing Mechanism, (5) Investment Plan, (6) Risk Management, and (7) Facilitating and Supporting.
Table 2. Distribution of Activities for Implementing Agencies
| Implementing Agency | Activities |
| --- | --- |
| Directorate of Climate Change Mitigation | Data Management, Baseline, MRV |
| Directorate of Sectoral and Regional Resource Mobilization | BSM, Investment Plan, Facilitating and Supporting |
| Vertical Office | Capacity Building |
Source: BPK Report
BPK assesses the financial statements of the Preparation of SLP project with several criteria, such as conformity with the provisions in the Project Financial Management Guidelines and Grant Agreement. BPK also explores the procedures for using funds and internal compliance from project managers so that targets can be achieved. BPK found non-compliance with regulations in the implementation of the Preparation of SLP. There is an overpayment of Rp63 million on the grant expenditure in the consultant services contract. This is due to the non-optimal financial manager so that losses occur.
Then, there is also an overpayment of the resource person's honorarium of Rp16.8 million. Examination of payment documents shows that the honorarium of speakers and moderators paid in gross, namely honorarium money according to standards without deducting income tax 21. The total overpayment of income tax components for the honorarium of speakers and moderators tested for quotation amounted to Rp16 million, namely the Directorate of MPI amounting to Rp10 million, the Directorate of MS2R amounting to Rpl million and BPPIKKHL Sumatra Region amounting to Rp5 million. This loss can certainly reduce the effectiveness and efficiency of using grant funds in reducing carbon emissions.
Covid-19 Infectious Waste Management
Improving the quality of the environment is a national development target listed in the 2015-2019 RPJMN. The national development target is one of the Ministry of Environment and Forestry program targets, namely improving public health and environmental quality by reducing risks due to exposure to waste.
The Ministry of Environment and Forestry's 2019 Performance Report reports a decrease in waste in 2016-2019. However, the data does not describe in detail the types and steps to reduce B3 waste implemented, especially by the Ministry of Environment and Forestry. The narrative of the 2020-2024 RPJMN describes that the capacity of the environment is decreasing due to high pollution and not optimal handling efforts. Limited management facilities and other challenges in the form of increasing violations of environmental laws related to waste pollution are the main problems for waste management in the 2015-2019 period.
BPK is tasked with assessing the effectiveness of monitoring waste management and recovering land contaminated with waste to mitigate the adverse effects of carbon emissions. One of the focuses of BPK is medical waste generated by medical devices during the handling of Covid-19. Through a series of inspections, BPK concluded that the infectious waste management was not optimal. Only 69 of the 132 referral hospitals have carried out infectious waste management properly. BPK carries out the test through the SIRAJA application. Based on the results of observations in the field, it is known that there are 261 hospitals compiled in the Ministry of Health data but do not yet have the SIRAJA application. This indicates that there is a potential for undetected infectious waste that can cause an increase in carbon emissions.
BPK also found that as of November 2020, there were 1,663 tons of infectious waste. DKI Jakarta Province contributed the most infectious waste with 338 tons, followed by East Java with 212 tons and Central Java with 123 tons. Moreover, the Ministry of Environment and Forestry does not have precise data on whether the waste has been appropriately managed or not. BPK concluded that the amount of infectious waste recorded by the Ministry of Environment and Forestry was not entirely valid and was not in line with the increase in Covid-19 cases. The condition of a lot of data is a big problem for the ministry.
Table 3. The Big Five Provinces of the Largest Covid-19 Waste-Producing Rank
| No. | Province | Volume (ton) |
| --- | --- | --- |
| 1. | DKI Jakarta | 337,16 |
| 2. | East Java | 211,99 |
| 3. | Central Java | 122,82 |
| 4. | West Kalimantan | 108,84 |
| 5. | Banten | 103,46 |
Source: BPK Report
Regarding this problem, the Director of PKPLB3 agrees that there are still many obstacles in monitoring the management of infectious waste handling Covid-19. The invalid data related to the amount of medical waste generated from the technical ministry government and the Ministry of Environment and Forestry. Furthermore, it will follow up on these findings according to BPK recommendations.
BPK recommends the Minister of Environment and Forestry to coordinate with the Ministry of Health, Regional Government, and Health Facilities to take an inventory of the infectious waste generators handling Covid-19 from ODP and unify their management to ensure the handling of the negative impacts of waste on humans and the environment.
Contribution of Renewable Energy to the National Energy Mix
The Government of Indonesia, one of the countries that signed the Paris Agreement, is committed to reducing greenhouse gas emissions by 29% by 2030. One of the steps that have a significant effect in efforts to mitigate global warming by reducing GHG emissions is to reduce dependence on fossil fuels. Data from the Ministry of Energy and Mineral Resources as of the first semester of 2019 shows that fossil fuels in the national primary energy mix are still at 90.99%, consisting of 35.08% petroleum, 35.12% coal, and 20.79% natural gas.
The Ministry of Energy and Mineral Resources mandates to form renewable energy to achieve this goal. The potential of renewable energy in Indonesia is still very wide open. The highest potential comes from solar power with 207,898 Mega Watts. However, the installed capacity of solar power is only 92 MW or 0.044% of the potential. This condition also occurs in other renewable energy sources.
The Ministry of Energy and Mineral Resources used funds of IDR 735 billion in 2017 to carry out this. The use of funds for renewable energy continues to increase to Rp. 1.5 trillion in 2018. With such funds, BPK needs to conduct an in-depth examination to ensure that the funds are used following their designation and that the Ministry of Energy and Mineral Resources can achieve the target of reducing carbon emissions.
Based on the BPK examination, there have been positive achievements made by the Ministry of Energy and Mineral Resources. The positive achievements include that as many as 15 provinces in Indonesia have executed instructions from the relevant ministries and have issued many incentive schemes in the geothermal sector. This incentive will encourage people to use renewable energy. However, behind the positive achievements, several things have been found by BPK.
These findings include the ineffective coordination of cross-sectoral policies. This is because there is a difference between the general national energy plan and the regional one, which affects the assumptions used. For example, related to economic growth, in RUEN economic growth is assumed to be around 7-8%, while in RUED the average ranges from 6-7% so the energy needs in RUED will not be the same as energy needs in RUEN. The complexity of the Indonesian state which consists of many provinces is one of the causes.
The next finding is that there is disharmony in policies on the use of Conservation Forest areas so that the utilization of geothermal potential is not adequate. There is a nature reserve forest, a nature conservation forest area, and a hunting park. Geothermal exploitation activities for indirect use in LHP Performance on Effectiveness of EBT Contribution Program In BEN 27, protected forest areas and production forests can be carried out if the Business Entity has obtained a borrow-to-use forest area permit. Meanwhile, geothermal exploitation activities for indirect use located in conservation forest areas can only be carried out if the Business Entity has obtained a permit to use environmental services. However, the permit is still often hampered.
Carbon Tax
The carbon tax will be carried out in stages according to a roadmap that will consider the development of the carbon market. The carbon tax implementation will prioritize the principles of justice (just) and affordability (affordable) by taking into account the business climate and small communities. The carbon tax rate is set higher or equal to the carbon price in the carbon market with a minimum rate of IDR 30.00 per kilogram of carbon dioxide equivalent (CO2e). The first implementation was on April 1, 2022 in the coal-fired power plant sector with a cap and tax scheme that is in line with the implementation of the carbon market, which has already started running in the coal-fired power plant sector.
However, over time and seeing the readiness of the tax implementation, the Ministry of Finance is finally compiling various technical rules for implementing the carbon tax planned to be implemented on July 1, 2022. The government will apply a carbon tax when regulation and readiness of the electricity sector is the first sector to be imposed. This readiness is essential so that the core objective of implementing a carbon tax has an optimal impact, so the government decided to implement a carbon tax on July 1, 2022.
The government will continue to consult with the House of Representatives in preparing the implementation of this carbon tax. The technical rules for implementing the carbon tax include tariffs and the basis for imposition, methods for calculating, collecting, paying or depositing, reporting, and a carbon tax roadmap. Meanwhile, other technical regulations, such as the Emission Upper Limit for the PLTU sub-sector and procedures for implementing the Carbon Economic Value in power plants, will be determined by the Ministry of Energy and Mineral Resources (ESDM). In order for climate control instruments to run optimally, the government is also preparing various derivative rules from Presidential Regulation 98/2021, including those related to the implementation of Carbon Economic Values (NEK) and Nationally Determined Contributions (NDC) at the Ministry of Environment (KLHK) and the Value Steering Committee. Carbon Economy at the Coordinating Ministry for Maritime Affairs and Investment.
The climate issue is cross-sectoral. This carbon tax will be a new task for BPK to ensure the implementation of the policy so that it can become a tool to reduce carbon emissions in Indonesia. BPK must also ensure that the flow of funds from carbon tax revenues is appropriately allocated.
Conclusion
The challenges faced by Indonesia in reducing carbon gas emissions are severe. Cross-sectoral coordination is needed, such as the Ministry of Environment and Forestry, the Ministry of Energy and Mineral Resources, and the Ministry of Finance. The cross-sectoral coordination needs to be monitored so that all activities are effective and efficient. BPK plays a vital role in the supervision process by conducting performance checks. Through the examination, BPK obtains findings and provides recommendations to the executing ministry. The executing ministry must implement the recommendation. With a business process like this, it is hoped that Indonesia's target to reduce carbon gas emissions can be achieved.
References
Adams, M. B. (1994). Emerald Article: Agency Theory and the Internal Audit. Managerial Auditing Journal, 9(8), 8–12.
Bengtsson, M. (2016). How to plan and perform a qualitative study using content analysis. NursingPlus Open, 2, 8–14. https://doi.org/10.1016/j.npls.2016.01.001
BPK 2020a. Audit Report No. 03/LHP/XVII/01/2020. Jakarta, Indonesia: BPK
BPK 2020b. Audit Report No. 26a/LHP/XVII/09/2020. Jakarta, Indonesia: BPK
BPK 2020c. Audit Report No. 28a/LHP/XVII/09/2020. Jakarta, Indonesia: BPK
BPK 2020d. Audit Report No. 29a/LHP/XVII/09/2020. Jakarta, Indonesia: BPK
BPK 2021. Audit Report No. 3/LHP/XVII/01/2021. Jakarta, Indonesia: BPK
Campbell, J. L. (2007). Why would corporations behave in socially responsible ways? An institutional theory of corporate social responsibility. Academy of Management Review, 32(3), 946–967. https://doi.org/10.5465/AMR.2007.25275684
Carpenter, V. L., & Feroz, E. H. (2001). Institutional theory and accounting rule choice: An analysis of four US state governments' decisions to adopt generally accepted accounting principles. Accounting, Organizations and Society, 26(7–8), 565–596. https://doi.org/10.1016/S0361-3682(00)00038-6
Dacin, M. T., Goodstein, J., & Scott, W. R. (2002). Institutional theory and institutional change: Introduction to the special research forum. Academy of Management Journal, 45(1), 45–57. https://doi.org/10.2307/3069284
Eisenhardt, K. M. (1989). Digitalis: Reappraisal of its use after acute myocardial infarction. Academy of Management Review, 14(1), 57–74. https://doi.org/10.1159/000169659
Elo, S., & Kyngäs, H. (2008). The qualitative content analysis process. Journal of Advanced Nursing, 62(1), 107–115. https://doi.org/10.1111/j.1365-2648.2007.04569.x
Hanne, D., Baiman, S., Bandura,Albert, Coles, J. L., Daniel, N. D., Naveen, L., Ang, J. S., Cole, R. A., Lin, J. W., Bradley, M., Jarrell, G. A., Kim, H., Bosse, D. A., Phillips, R. A., Heath, J., Fama, E., Ferrell, A., Liang, H., Renneboog, L., … D'aveni, R. A. (1990). AGENCY THEORY AND BOUNDED SELF-INTEREST Journal: Academy of Management Review Academy of Management Review AGENCY THEORY AND BOUNDED SELF-INTEREST. Journal of Financial Economics, 15(3), 857–878.
http://dx.doi.org/10.1016/j.jfineco.2015.12.003%0Ahttp://search.ebscohost.com/login.aspx?direct=true&db=aph&%2338;AN=436984 6&%2338;site=ehost-live
Kostova, T., Roth, K., & Dacin, M. T. (2008). Institutional theory in the study of multinational corporations: A critique and new directions. Academy of Management Review, 33(4), 994–1006. https://doi.org/10.5465/AMR.2008.34422026
Mitnick, B. M. (2011). Origin of the Theory of Agency: An Account By One of the Theory's Originators. SSRN Electronic Journal, October 2005. https://doi.org/10.2139/ssrn.1020378
Panda, B., & Leepsa, N. M. (2017). Agency theory: Review of theory and evidence on problems and perspectives. Indian Journal of Corporate Governance, 10(1), 74–95. https://doi.org/10.1177/0974686217701467
Scapen, R. W. (1991). Management Accounting: A Review of Contemporary Developments: A Review of Recent Developments. Palgrave.
Shankman, N. A. (1999). Reframing the Debate Between Agency and Stakeholder Theory. Journal of Business Ethics, 19, 319–334. https://link.springer.com/article/10.1023/A:1005880031427
Shapiro, S. P. (2005). Agency theory. Annual Review of Sociology, 31, 263–284. https://doi.org/10.1146/annurev.soc.31.041304.122159
Suddaby, R. (2010). Challenges for institutional theory. Journal of Management Inquiry, 19(1), 14–20. https://doi.org/10.1177/1056492609347564
Wehmeyer, M. L., Shogren, K. A., Little, T. D., & Lopez, S. J. (2017). Development of self-determination through the life-course. Development of Self-Determination Through the Life-Course, 1–303. https://doi.org/10.1007/978-94-024-1042-6
White, M. D., & Marsh, E. E. (2006). Content analysis: A flexible methodology. Library Trends, 55(1), 22–45. https://doi.org/10.1353/lib.2006.0053