Introduction
Climate change refers to long-term shifts in temperatures and weather patterns. Since the 1800s, human activities have been the main driver of climate change. Burning of fossil fuels like coal, oil and gas generates greenhouse gases that act like a blanket wrapped around the earth, trapping the sun's heat and raising temperatures. It has been reported that the earth is now about 1.1°C warmer than it was in the late 1800s with the last decade (2011-2020) being the warmest on record.1
Climate change presents serious consequences to human society and many of the physical and ecological systems upon which it depends. There has been a growing number of extreme global events with record global temperatures, loss of ice volume, rising sea levels and changes in global precipitation patterns; which have further jeopardized the existence of ecosystems around the world. Other externalities of climate change include reduced water and food security; increased damage to infrastructure; additional mortality and morbidity; human migration and displacement; damaged livelihoods; increased mental health issues; and increased inequality.2
2. Climate Action and Sustainable Development Goals (SDGs)-
SDG 13 (Climate Action) aims to encourage countries to take collective action in combating climate change. Many other SDGs influence climate change – and vice versa. It has been emphasized that only incremental progress can be made on climate action without accelerating achievement of Goal 7 on affordable and clean energy or Goal 12 on responsible consumption and production. Climate solutions can also support Goal 3, Goal 8, Goal 9 and Goal 123. It would thus be clear that SDG's are vital to provide a paradigm for assessment of climate change.
3. Commitments towards Climate Change
3.1 Global commitments
The first effort towards Climate Change was in the form of the 1st United Nation's Conference on Environment held in 1972 (also known as the Stockholm Conference). It was the UN's first major conference on international environmental issues, and marked a turning point in the development of international environmental conservation efforts. Major landmarks towards climate change are shown below: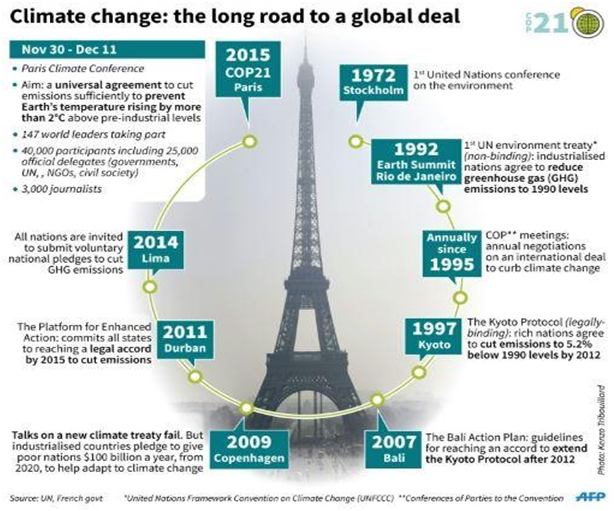 Figure 1- Road map of Climate Action commitments
After the Earth Summit held in 1992 at Rio de Janeiro, a number of international conventions confirmed the phenomenon of climate change and the urgency of intervention to save the planet. Under the Paris Agreement adopted in 2015, countries pledged to halt the increase in the global average temperature to well below 2°C above pre-industrial levels and pursue efforts to limit the temperature increase to 1.5°C above pre-industrial4 levels. At COP 26 held at Glasgow in 2021, the countries announced bold collective commitments to curb methane emissions, to halt and reverse forest loss, align the finance sector with net-zero by 2050, ditch the internal combustion engine, accelerate the phase-out of coal, and end international financing for fossil fuels.
3.2. Commitments by India
India is a party to the United Nations Framework Convention on Climate Change (UNFCCC). In its Nationally Determined Contributions (NDC), India has committed to reduce its emission intensity of GDP by 33 to 35 per cent below 2005 levels by the year 2030; 40 per cent of cumulative electric power installed capacity would be from non-fossil fuel sources by 2030 and create an additional carbon sink of 2.5 to 3 billion tonnes of CO2 equivalent through additional forest and tree cover by 2030.
5
In the recently held COP 26 at Glasgow, five targets called 'Panchamrit' were identified with following components
6
-
Take India's non-fossil energy capacity to 500 GW by 2030.
Meet 50 percent of energy requirements from renewable energy by 2030.
Reduce the total projected carbon emissions by one billion tonnes from now till 2030.
Reduce the carbon intensity of its economy by more than 45 percent by 2030.
Achieve the target of Net Zero by 2070.
4. Why Audit Climate Change?
Climate change is a field of urgent importance, where a large and growing amount of money will be spent globally on reducing emissions, enhancing sinks and adapting to climate change. Climate change involves a wide range of risks that make it particularly relevant to auditors. These include risks related to goal attainment, policy instruments and transparency. Hence, by auditing Climate Change responses of Governments, SAIs can play an important role in helping governments improve their performance and management.7 As per the 10th INTOSAI WGEA survey on environmental auditing, adaptation to Climate Change is the most popular topic for audit in 2021-2023. Also, Climate Change mitigation is among the top ten audits planned for 2021-2023.
5. Global initiatives in Auditing Climate Change
5.1 INTOSAI Working Group on Environmental Auditing (WGEA) work8
Since 2010, WGEA has worked increasingly with climate topics to support the economic, efficient and effective implementation of climate policies and the accountability of public administration. The WGEA paper on resilience and adaptive capacity (2019) provides audit guidance for SAIs assessing the national preparedness to achieve SDG 13.1. WGEA research (2016) on climate change in marine environments and ocean acidification (SDG 14 on life below water) addresses the role of SAIs in supporting government efforts to respond to climate change and acidification issues in marine environments. It describes the effects of climate change on marine environment, previous SAI audits and challenges SAIs have experienced in auditing these issues.
5.2 Mitigation related global audits
SAIs have audited the economy, efficiency and effectiveness of climate mitigation policies for instance regarding the energy, transport and housing sector, and assessed the central coordination of mitigation measures. SAIs have found principally:
ineffective measures and subsidy systems
poorly planned taxation systems
lacking data and monitoring systems
missing innovations for new technologies
In 2021, the European Court of Auditors reported that €100 billion of common agricultural policy funds attributed during 2014-2020 to climate action had not contributed to reducing greenhouse gas emissions from farming. Supported measures have only low climate-mitigation potential and the system does not incentivise the use of effective climate-friendly practices. (Source: https://www.environmental-auditing.org/media/117578/wgea-cop26-bulletin-18-11-2021.pdf )
In 2017 and again in 2019, Canada's SAI audited progress towards fulfilling the G20 commitment to phase out inefficient fossil fuel subsidies. Overall, the audits found that there was no clear definition of what could be considered an inefficient fossil fuel subsidy, and that there was no consideration of economic, social, and environmental sustainability in subsidizing the fossil fuel sector over the long term. (Source: https://www.environmental-auditing.org/media/117578/wgea-cop26-bulletin-18-11-2021.pdf)
5.3 Adaptation related global audits
In 2019–2021, SAIs have audited overall risk management and resilience systems, as well as targeted audits on adaptation in sectors such as water infrastructure
SAIs have found for instance:
poor strategic planning
inadequate risk management
lack of concrete measures
inefficient measures
In 2019, SAI USA found that the federal government does not strategically identify and prioritize projects to ensure they addressthe nation's mostsignificant climate risks. (Source: https://www.environmental -auditing.org/media/117578/wgea -cop26-bulletin-18-11-2021.pdf)
5.4 Finance related global audits
SAIs are increasingly auditing the financial and fiscal tools related to climate. In their audits, SAIs found in 2019-2021 for example:
finance and investment risks arising from climate change risks
slow progress and poor monitoring of international climate finance
missing information on cost-effectiveness
In 2021, SAI Finland reported that despite the government's intention to scale up climate finance and direct half of it to climate change adaptation, there was no published plan for how these policies will be implemented nor strategic objectives for climate finance. The audit recommended that the Ministry for Foreign Affairs should draw up a public plan as to how it will increase and allocate Finland's international climate finance, justifying the choices and priorities. (Source link: https://www.environmental-auditing.org/media/117578/wgea-cop26-bulletin-18-11-2021.pdf)
5.5 Collaboration
In recent years, SAIs have evolved reports sharing their climate-related audit experiences globally and regionally and engaged in bilateral audits on cross-border issues. As per INTOSAI WGEA, climate change requires a whole-of-society response and SAIs can explore how collaboration between all levels of government and the rest of society can be most effective and efficient.
Ten Pacific area SAIs concluded in a cooperative audit (2015) that the Pacific Island states are not well placed to respond effectively to the threats and challenges arising from climate change. Short-term and long-term activities and cross-sectoral management of climate risks are needed.
In 2019, SAI Egypt conducted an audit on desertification. It points out that it isimportant to assess the performance of national environmental programmes and the environmental impacts of other national programmes, which may have direct or indirect impact on desertification.
According to the WGEA Work Plan, SAI Indonesia is developing a training package on auditing climate action and finance in the context of the SDGs. SAI India hosts an International Training Centre (iCED) and providestraining and knowledge-building networks on various environmental topics, including the climate and sustainable development.
6. Initiatives by SAI India in Auditing Climate Change
SAI India's efforts for audit on climate change can be broadly categorized as –
1. Audits that cover the sources of GHG emissions such as Air Pollution, Vehicular Pollution, Industrial Pollution and audits focussed on the deficiencies relating to control of vehicular emissions and air polluting industries such as Performance Audit on Pollution by industries in West Bengal, Report No 5 of 2018, Compliance audit on Vehicular Emission by State Transport Undertakings in West Bengal, Report No. 2 of 2018, etc. During such audits, SAI India examined the Environment Plan and Policy outlined by the Government for mitigation of emissions, adequacy and effectiveness of Environment Management Systems for reduction of emissions, role of regulators, functioning of the Emission Testing Centre's and significant risks towards degradation of environment.
2. Audits covering the mitigation measures are related to use of renewable energy and forestry. Through such audits SAI India examined adequacy and appropriateness of steps taken for exploitation of renewable energy components like solar and wind energy, reasons of varied development of these sectors, transmission infrastructure, problems in maintaining grid stability, Renewable Purchase Obligation (RPO) mechanisms as in All India Performance Audit of Renewable Energy Sector in India, Report No. 34 of 2015 . SAI India has conducted audit of forest ecology, environment and wildlife department to reveal areas of concern in planning, financial management, Scheme/programme management, internal controls and monitoring, measures taken by the forest departments to protect forest and wildlife in and outside the protected areas and the effectiveness of utilization of funds for protection of forest and wildlife (Performance Audit on Protection of forest and wildlife in Rajasthan, Report No 5 of 2019). In Performance Audit on Administration of National Parks and Wildlife Sanctuaries in Karnataka, Report No. 6 of 2016, land use cover and land use changes were examined using remote sensing technique.
3. Audits covering the adaptation measures such as schemes for water sector like Performance Audit of Ground Water Management and Regulation, Report No. 9 of 2021, Performance Audit of Rejuvenation of River Ganga (Namami Gange), Report No.39 of 2017, Performance Audit of National Rural Drinking Water Programme, Report No. 15 of 2018, Flood Forecasting and Management, Report No. 10 of 2017, etc. were conducted to examine issues of water quality and quantity, rejuvenation of aquatic ecology, human health, sustainable water use and creating climate resilient infrastructure, monitoring and surveillance.
4. SAI India's audits also covered measures and safeguards for environmental management such as Performance Audit on Environmental Clearance and Post Clearance Monitoring, Report No. 39 of 2016.
7. Challenges
Due to the dynamic, evolving and cross-cutting nature of the subject, involvement of multiple agencies and a number of schemes/programmes/initiatives, availability of criteria in audit is a challenge.
Records/data – Non production of records and production of incomplete records acts as a significant constraint in audit scrutiny. Lack of information on main sources and sinks of GHG emissions is a challenge for audits.
Lack of training and capacity development to auditors in the field of Climate change acts as a constraint in understanding the issue.
8. The way forward
Promotion of integrated audits of climate change to report that the expenditure incurred actually benefits the intended beneficiaries
Encouraging maintenance of baseline/ source data for evaluating performance of Government activities and programmes.
Promoting research and co-operation through involvement of academicians/ domain experts/ Non-Government Organisations (NGOs)/ Enterprise/ Industry working in associated areas at different stages of audit.
Adoption of technology (Remote sensing and GIS techniques) as an integral tool in our audits.
Ensuring access to records/ documents in a timely manner
There is a growing focus on the areas of environment audit and leveraging of emerging technologies. The Comptroller and Auditor General of India has also underlined the importance of working towards developing a comprehensive framework with environment audit specific definitions and parameters for natural resource accounting dovetailing with the overall framework of sustainable development and checking whether the expenditure is creating a negative environmental return. It will facilitate inclusion of the concept of environmental return per unit of money spent in the project assessment framework. This would also complement the efforts taken towards mitigation and adaptation efforts towards climate change and carbon emissions.
To conclude, we may state, that in a global environment of pandemic related risks leading to economic crises, the only way to mitigate the dangers of climate action failure are to continue to raise awareness on this issue. As auditors, the conduct of audits in this area, thus will go a long way in achieving the objective of red-flagging the issue of climate action failures.
1United Nations – Climate Action
2 IPCC- Climate Change 2022- Impacts, Adaptation and Vulnerability
3 United Nations Climate Action- UN and Climate Change
4 United Nations Climate Change- Process and Meetings- The Paris Agreement
5 MoEFCC. (2021). India: Third Biennial Update Report to the United Nations Framework Convention on Climate Change. Ministry of Environment, Forest and Climate Change, Government of India
6 National Statement by Prime Minister Shri Narendra Modi at COP26 2020 Summit in Glasgow
7 Auditing the Government Response to Climate Change Guidance for Supreme Audit Institutions
8 INTOSAI WGEA For a common sustainable future – Innovative environmental auditing
Selected Bibliography:
1.United Nations Climate Action; What Is Climate Change? available at https://www.un.org/en/climatechange/what-is-climate-change
2.IPCC- Climate Change 2022- Impacts, Adaptation and Vulnerability, available at: https://www.ipcc.ch/report/sixth-assessment-report-working-group-ii/
3.Auditing the Government Response to Climate Change Guidance for Supreme Audit Institutions, available at : https://www.environmental-auditing.org/media/113740/2010 _wgea_climate_change_guide_a4_web.pdf
4.United Nations Climate Action- UN and Climate Change, available at:https://www.un.org/en/climatechange/17-goals-to-transform-our-world
5.United Nations Climate Change- Process and Meetings- The Paris Agreement, available at:https://unfccc.int/process-and-meetings/the-paris-agreement/the-paris-agreement
6.MoEFCC. (2021). India: Third Biennial Update Report to the United Nations Framework Convention on Climate Change. Ministry of Environment, Forest and Climate Change, Government of India, available at: https://unfccc.int/sites/default/files/resource/INDIA_%20BUR-3_20.02.2021_High.pdf
7.National Statement by Prime Minister Shri Narendra Modi at COP26 2020 Summit in Glasgow,available at: https://www.mea.gov.in/Speeches-Statements.htm?dtl/34466/National+ Statement+by+Prime+Minister+Shri+Narendra+Modi+at+COP26+Summit+ in+Glasgowhttps://www.thequint.com/climate-change/india-cop26-climate- conundrum-everyone-should-care-about#read-more
8.United Nations Climate Action- What is Climate Change, available at:https://www.un.org/en/climatechange/what-is-climate-change
9.Ministry of Environment Forest and Climate Change- Government of India, available at:https://moef.gov.in/en/
10.Performance of NAPCC Committee on Estimates 2018-19 (Thirtieth Report), available at:https://eparlib.nic.in/bitstream/123456789/783946/1/16_Estimates_30.pdf
11.Ministry of Environment Forest and Climate Change- Climate Change Knowledge Portal,available at: https://moef.gov.in/en/
12.The Global Risk Report 2022, available at:https://www3.weforum.org/docs/WEF_The_Global_Risks_Report_2022.pdf
13.Business Standard.com April 6, 2022, available at:https://www.business-standard.com/article/current-affairs/india-needs- 12-4-trillion-for-net-zero-transition-says-report-122040600019_1.html
14.INTOSAI WGEA For a common sustainable future – Innovative environmental auditing,available at: https://www.environmental-auditing.org/media/117578/wgea-cop26-bulletin-18-11-2021.pdf
15.SAI India (Oct 2021), country paper on Audit on Climate Change for the 8th ASOSAI WGEA Seminar on Environmental Auditing, available at http://www.asosaiwgea.org/activities/ASOSAIWGEAMeetingsSeminars/MeetingthSeminar8/
16.The 15th ASOSAI Assembly on 7th September 2021- Speech of Comptroller and Auditor General of India, available at https://cag.gov.in/uploads/cag_speeches/speeches-06151b7d73297f5-97349437.pdf